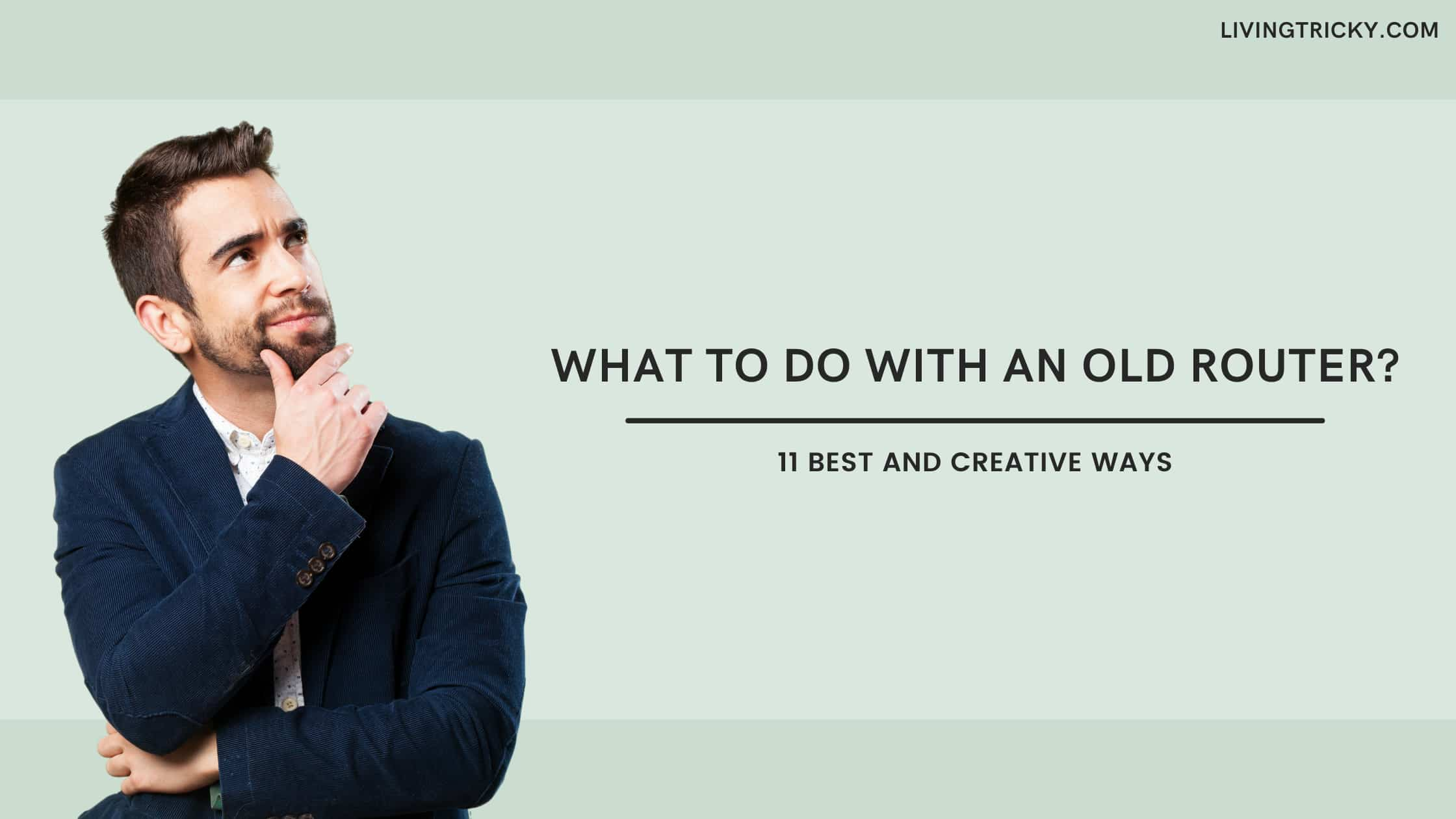 Today I'm going to share with you What To Do With an Old Router? 11 Best And Creative Ways.
A router is a very useful device to scatter the internet signals throughout your home or workplace. It makes us more flexible in working or surfing the internet and gives us the ease of moving around without worrying about losing our internet connection.
This is why people have been buying it for many years and the technology has moved ahead at a great pace. One very pertinent question arises after this, what to do with old wireless router?
There are many things you must consider before getting the answer to this question. Firstly, routers are a very important part of the workplace or at a home, as we have mentioned above.
If you want to connect your local network with the internet, you can use a router. Today, smart TVs have wifi connection built-in them which can not work if you don't have a functioning router. However, with time they become obsolete as new technology comes.
Even if your router is old, and you are questioning what to do with an old router, don't throw it away. There are many other tasks it can still achieve combined with a new router.
We are going to tell you some things to do with an old router that you may find helpful. Let's dive into that straight away.
Also Read – How To Get No Credit Check T-Mobile Latest Smartphone
11 Things to Do with Old Router: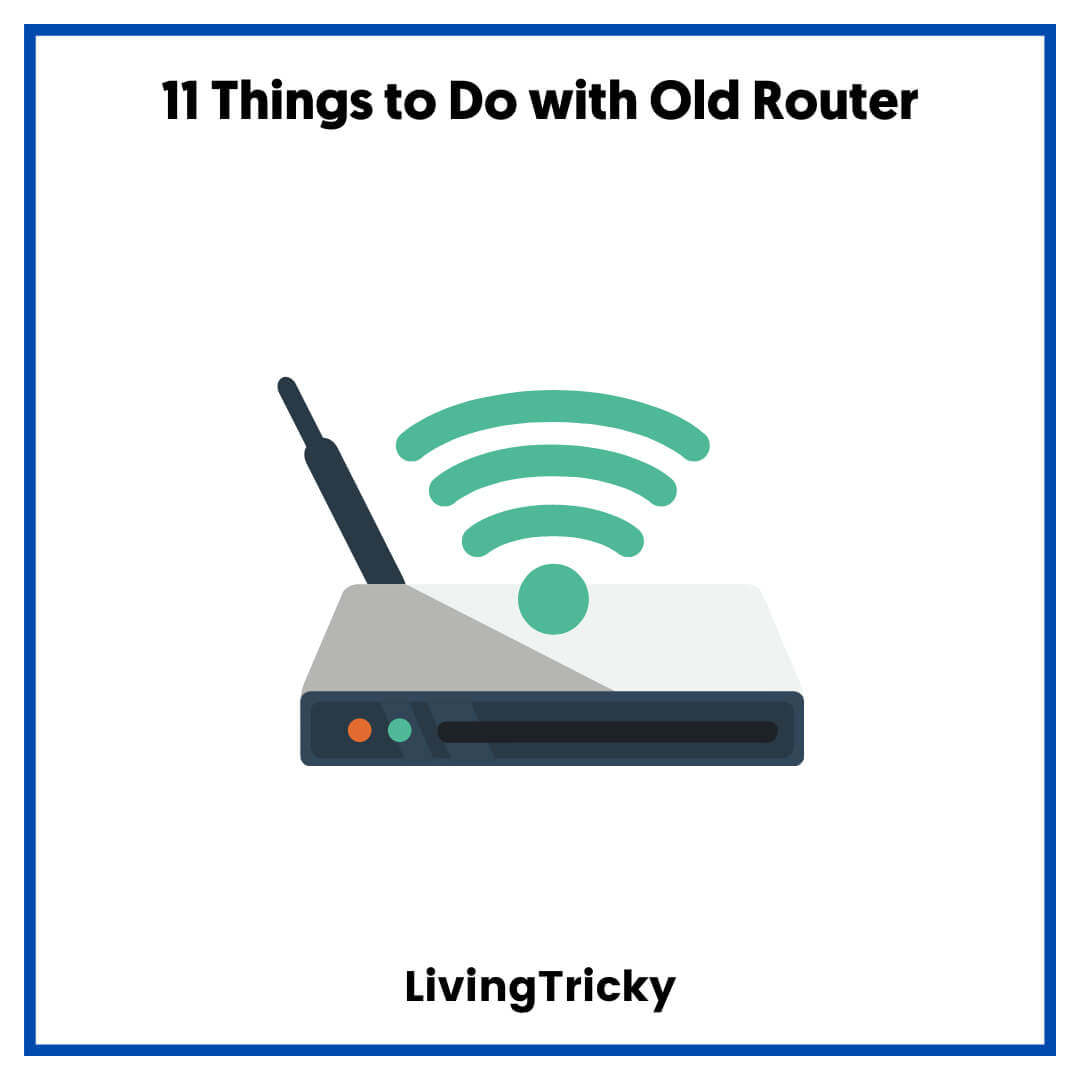 Yes, there are 11 old router uses that you must know off. We will tell all of them one by one.
1. Use It as a Network Switch:
This is one of the best uses for old routers. Most of the routers have 6 ethernet ports or even less sometimes. There are certain appliances at home that need an ethernet connection to run.
For example, a gaming device, or a monitoring device do not have wireless networking services generally, and in such cases, a physical ethernet connection is needed. This is why routers came with multiple ports.
Now, when you find yourself in shortage of ports, you can turn your router into a network switch. You will have more ports to use and get going. For this, ensure that your router is well connected to electricity.
For better use, do not disconnect and throw away your old router in some junk space only to remember it when you need ports. Dust particles and non-usage may decrease their quality and work.
However, make sure that you disconnect the wireless networking since it tends to interfere with the new router and may cause problems with the internet connection.
Also Read – The Best Tracfone Flip Phones With Plans
2. Convert It into a Wireless Bridge:
If you have devices that need an ethernet network or need to be connected with a network, an old router can be of much use.
The latest versions don't have an ethernet port, so instead of running your wire from one room to the other, you can convert your router into a wireless bridge. The ethernet will help you tap the existing signals, and send them through the router to your device when the ethernet is connected.
If you have a new desktop, this may be even more convenient. Your old wifi will act as a bridge between the newer router and the desktop. This will help in situations when the wifi signal strength isn't great and you are not able to surf or work properly. Since it is a  desktop, you can move. Therefore, old routers come in very handy at this time.
Also Read – 5 Cheap TV Service No Contract Deal – Best Choice
3. Turn It into a Wireless Repeater:
This is also one of the most common uses for old routers. Sometimes, wifi does not give quality reception at every part of the home.
This is because wifi signals get interfered with by walls, roofs distance etc. If you have a large house, wifi signals are going to be a big problem for you. In such cases, you can cherish these old router uses and convert the device into a repeater.
A wireless repeater is something that creates an extended signal range from the original sender. So if your room is far away from the wifi spot, you can install a repeater in between to get maximum optimization.
You can cover the whole home or two floors with this method. It is pretty easy and convenient to use.
Also Read – How To Get a Free Smartphone Online – A Step By Step Guide
4. Extend the Coverage of WiFi:
If you are thinking of what to do with an old wireless router, this is probably the best solution. Wireless routers can connect and distribute the internet connection however, they can be used for their wi-fi utility as well.
This means you can use it as an access point which helps extend the coverage range of a network. This will also enable more users to surf the internet.
When the signal strength is weak or small, this method comes in handy, and there is no extra charge for extending coverage as well.
If you have additional family members or friends in the house who are not able to use the wireless network due to connectivity issues, you can use this method to extend the coverage.
This is a very good, free of cost method of using an old router to your advantage.
Also Read – How To Win A Free iPhone Without Paying a Penny
5. NAS Storage:
If your old router has a USB port, then you can use it as NAS. NAS is a short form for network-attached storage. This means that you will be able to save your data by using this network for backup.
All you have to do is to connect the USB Hard drive or a pen drive with the USB port of your phone or laptop. After this, you can transfer the data from your mobile phone to the router memory card.
If you need to retrieve your data, the process can also be reversed and you can transfer it back to your device. This comes in very handy when a phone or a laptop accidentally gets destroyed or the whole data is lost due to a virus.
This is an external storage space without any connection to the device, therefore it's relatively safe and a good backup option.
Also Read – Best Apple Watch Payment Plan, Bad Credit
6. Make a VPN Router:
For this, your old router must support the custom firmware. If this is the case, then you can configure it with VPN software.
This means that your old router has transformed into a VPN router and you will be able to connect to any network through this VPN in a secured connection. You will not need any additional application for connecting when you want to use VPN.
You can use your old router for secure browsing as well where no one will be able to gather your actual IP Address.
Of curse, this assumes that you know how to configure a router with the VPN Software. If not, then this option is not as feasible for you.
Also Read – How to Get Free Government Internet and Laptop for Low Income Families
7. Guest WiFi:
People come and go from our house all the time. Sometimes, these guests also require an internet connection and as a host, you must provide them with a good, secure connection.
Most people keep passwords on their wifi, and it becomes difficult to connect to new networks with passwords for guests. It is also awkward asking for passwords.
Through this method, you can provide access to the guests without a password. You need to connect your old router with the network.
Now the router will also act as a repeater, however this time, it will not require a password and it will not allow the guests to access other devices on the network. This means that you both win.
Also Read –How To Get Free Landline Phone Service For Seniors
8. Modding the Old Router:
Another great use for old routers is modding them to repurpose the router. This might require some skill and imagination from your side as well.
The router is embedded in a system that is programmed to do one specific task, however, this router can be programmed to do another task just like the previous one.
RTehse routers have GPIO pins, ethernet port, USB port etc, and you can use any of these interfaces for other purposes as well.
For example, you can remove it to turn off an on the water valve, or make an LED Blink. You can also remotely switch your appliances using the relay back and forth.
As we mentioned, this will require some creativity on your part however if you are familiar enough with the process, you will realize that it's a very unique way of using the old router.
You can upgrade your appliances into smart ones just by remodding your router. Look around your house and then think of ways that you can use your old router. We are sure you will easily find one.
Also Read – How to Get WiFi Without an Internet Service Provider: 5 Ways
9. Convert the Router into an Internet Radio Streamer:
This way sounds fun. You can use your old router to play the internet radio. Many people don't know this, These routers can be configured for this radio streaming. You need to install the Open Wrt or DD-WRT customer router firmware for this to work properly.
Additionally, another software might be required. You will also need a USB sound card to insert into the audio in output mode to listen to the radio.
This method is not for beginners, this is why it is number 9 on the list. However, it may serve as good brushing up of skills for people who are aware of this method or possess the relevant knowledge and skill.
Additionally, it can also be a great learning opportunity for beginners. In the end, you might also end up with a completely transformed old router into an internet radio, which you can listen to at any time.
Also Read – 3 Ways to Get Low-Cost & Free Cell Phones for Seniors and Disabled
10. Sell the Router Online:
This is probably one of the easiest and most convenient old router uses. If you are not able to perform any of the advice given above or even below, you may just decide to sell it. It is better than discarding it.
Some people like to prefer buying second-hand devices and use them for different purposes rather than buying a new device. Someone might be interested in your old router for converting it into any of the forms we have described above.
So even if you don't want to go ahead with it, someone might.
This will also be an economical option since your income from the sale will help you get a new one, or simply add up to your pocket money. You can use platforms like eBay or Amazon to sell these routers online at great prices.
Keep in mind that you might not the price at which you bought the router because rear and tear depreciate the price, however you can still have a good deal if the router is in good condition. Moreover, the more features it has, the better the resale price.
Also Read – Buy NOW With Monthly Payments on Electronics No Credit Check
11. Turn It into a Hotspot:
If you are using a desktop, and want to have a reliable internet connection, you can consider converting your old router into a hotspot. Also, if you are using the wifi for business purposes, you can always count on this method to ensure good connectivity at the workplace.
You need to convert your router into a hotspot gateway. It is very easy and has worked for many people in the past as well.
Now that we have provided you with different old router uses, we are going to answer some doubts and queries that may clear away any leftover confusion.
Also Read – Where is The Best And Cheapest Place To Buy iPhone
Frequently Asked Questions: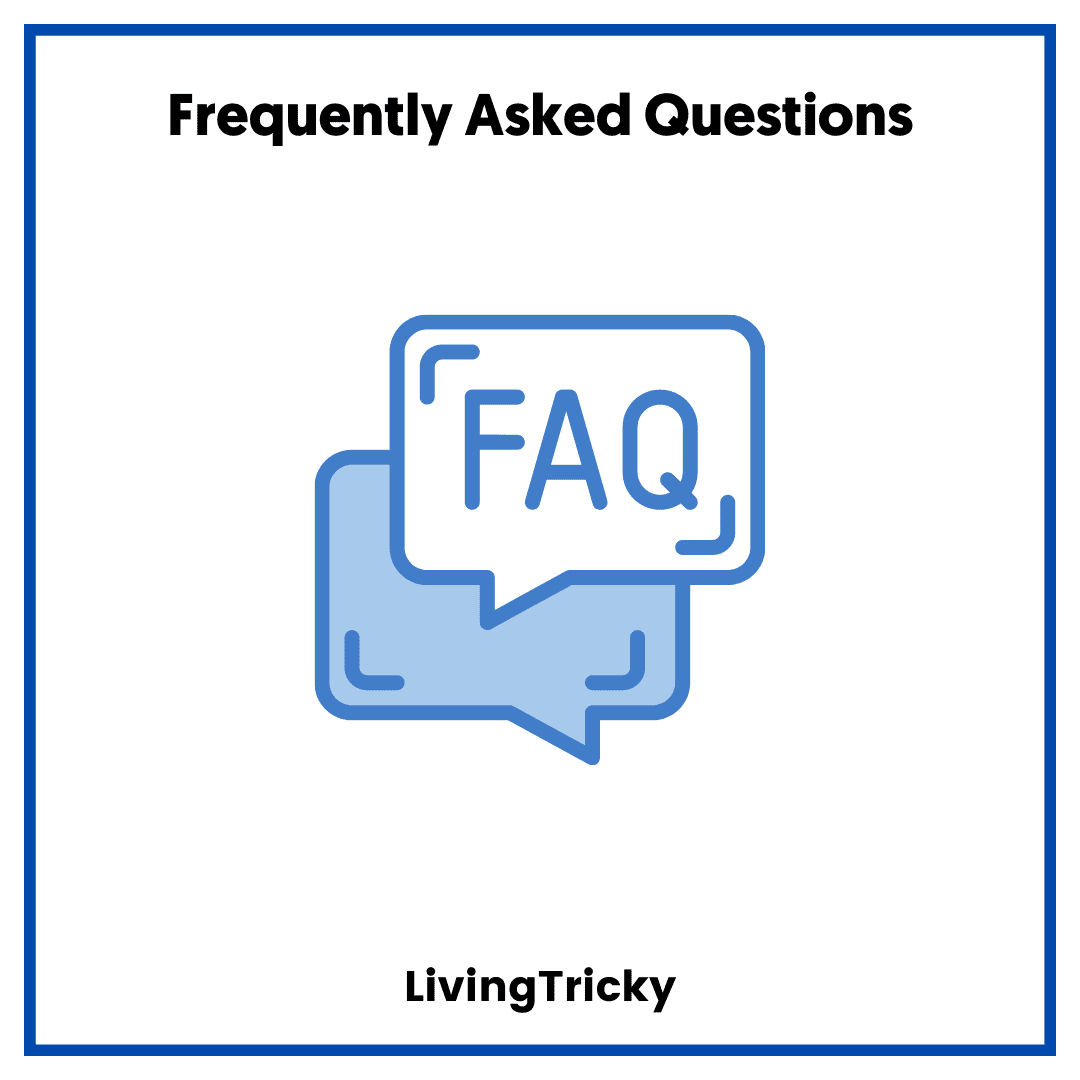 1. What Can I Do with an Old Router?
Well, this whole article is dedicated to this very question. If you are still confused and not sure whether you will be able to perform any of the tasks given above, you can simply sell it online.
If you don't even want to do that and want to be charitable, you can give it to someone who needs it and doesn't have the resources to buy it. This way it won't end up in waste and harm the planet, and it will help someone study, work or simply, enjoy.
2. Why Can't Old Routers Be Just Thrown Away?
First of all, it may even not be legal for you to throw away the router unless you have permission from the supplier.
If you have rented your router, or it was given to you as a part of the contract without any monthly charge or payment, you cannot throw it or give it away without permission.
Some internet service providers use the routers to refurbish them and sell them again at lower prices. So they don't want you throwing it away.
However, if you have bought it with your own money, you are legally entitled to throw it provided that the state laws permit you to do it.
Moreover, there are some regulations required to be followed for the recycling and disposal of electronic items that also need to be followed. So make sure you follow them too.
Additionally, we will advise you not to throw it away even if it's legal and permitted. You can just use any of the pieces of advice given away and use it in some other form, or you can simply sell it or donate it. Anything is better than throwing it away.
3. Can I Use My Old Router as Wifi Extender?
Yes, you can. If your old router does not support an extender or a repeater using the firm's software, you also have alternative options. All you need to see is if you can use the open-source firmware. If you can, then you can surely use the old router as an extender.
You need to be extra careful with this, especially if you have routers with 802.11b and geras. These routers usually don't work due to their low bandwidth. They might create interference in the network so it is not advisable to use them as extenders.
4. Can I Buy an Old Router?
Yes of course. In fact we have also stated that one of the uses of old routers is to simply sell them. However, after buying it make sure you do the factory reset and then update the firmware to ensure proper functioning.
There are chances that the previous owner has installed custom forward or has changed the configuration for using it for other purposes. In such cases, a factory reset is important for efficiency.
Like this post? Could you share it with your friends?
Suggested Read –
Ending the Article:
Routers brought a revolution in the internet world especially when the internet was not easily available. They enabled us to surf smoothly, work, or even connect with other people without worrying about the speed.
Technology has been constantly updating since then. Therefore, it is important to be up to date. Being up to date doesn't mean you must throw away your old devices after buying new ones. They can be used for other purposes as well.
This is what we have explained to you in this article today. You can save a lot of money by using these old routers for various other purposes, and increasing the efficiency of your new router, or adding convenience for others in using the internet.
Whatever may be the use, they are sure to help you lead a more convenient life with no extra cost.