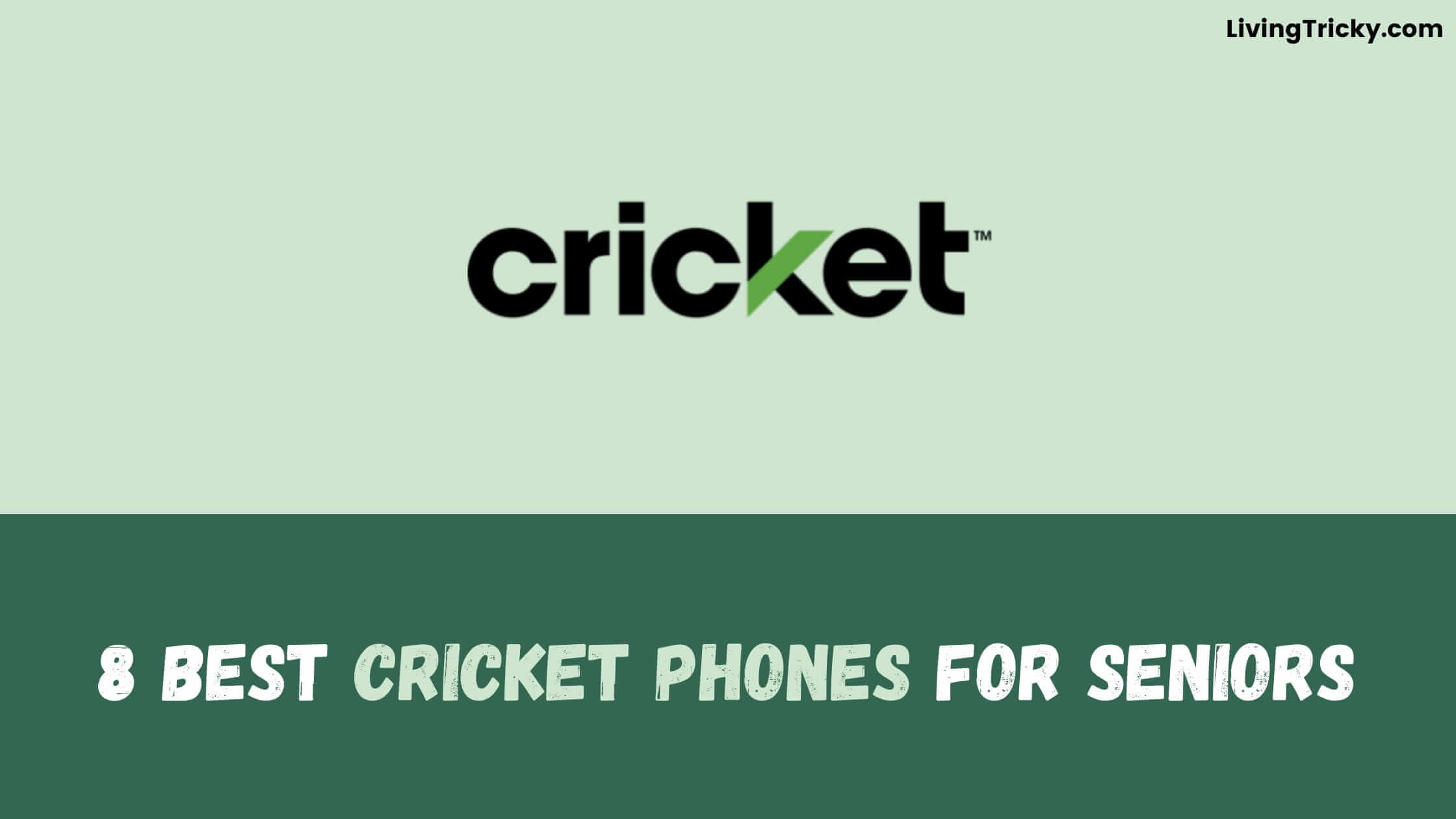 Today I'm going to share with you the 8 Best Cricket Phones for Seniors and Cricket Senior Plans.
Finding a good phone for your loved ones especially when they are seniors is a tough task. You cannot choose phones for them based on your compatibility and needs. They have different and important needs that should be looked into before buying a phone for them.
Moreover, their friendliness with technology also plays a huge role in the process. Various phones in the market are sold specially for seniors due to their friendly features. Cricket also offers great phones in this segment.
Cricket wireless phones are a good example of a dynamic and accommodative approach to its customer base which has allowed it to garner the love of adults and seniors alike. Similarly, there are so many plans offered by the company that are cheap, affordable and versatile.
No matter what the age, these plans for a good backbone to support seniors in using mobile phones. There are several cricket wireless senior plans to choose from along with different devices that are convenient for them.
Their deals and devices are suitable for everyone and anyone. One can either have a wireless plan and buy a cricket device or simply unlock a device and use the wireless network on it.
If you are asking yourself the question does cricket have plans for seniors, the answer is no, they don't. But don't get disheartened since there are various plans available that are beneficial to seniors. There are affordable plans offered and user friendly devices, when combined they form a great pair for seniors.
They offer all types of plans including unlimited talks and the internet. Moreover, their coverage is great which adds to their advantage. They start as low as $30 per month with unlimited texts, talks and 2GB high speed.
They can go on to $100 per month offering talks, texts and data for 4 different lines. These are essentially categorized into Cricket core and Cricket more respectively.
In this article, we are going to tell you about different plans and phones offered by Cricket that can be used by seniors without any hassle. We will also tell you why you should consider buying cricket phones and plans for seniors. We will answer the question of what kind of cell phone does cricket has to make you understand its versatile nature.
Also Read – Unlock TracFone Samsung Phones: 2 Easy Methods
Why Consider Cricket Phones for Seniors?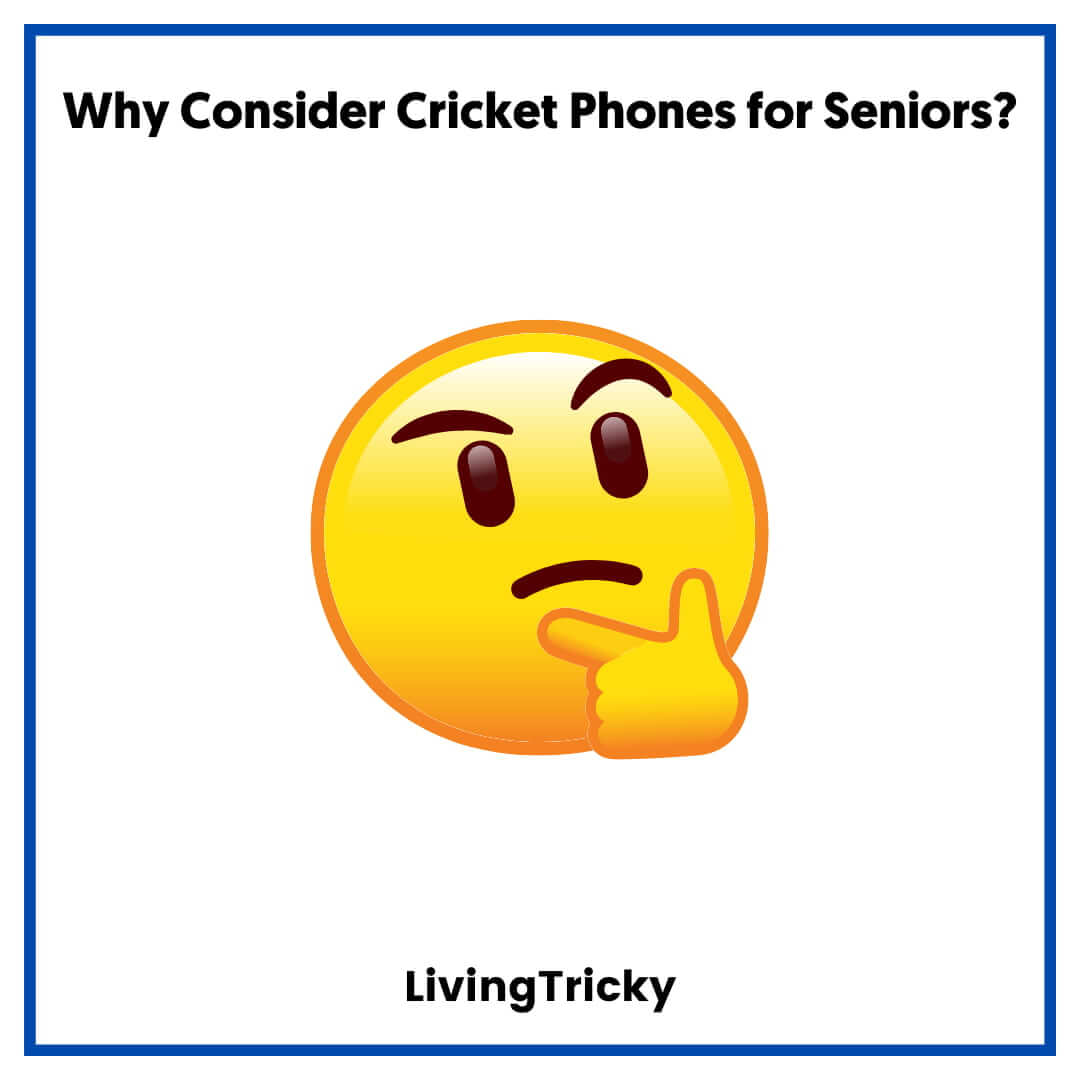 As we have already mentioned, there are various reasons for selecting cricket phones for seniors but here we will talk about it in detail. One of the most important factors to be considered when we buy phones for seniors is coverage.
They might not be able to talk to different parts of the house or even the area to get good coverage. Seniors might also not be able to get the coverage corrected if it is weak. For this reason, good coverage is an essential criterion to be kept in mind while choosing a wireless plan for seniors.
In this case, cricket plans have good coverage since they work under AT&T as a mobile virtual network operator. AT&T as everyone knows offers the most exceptional services in the US in coverage.
Therefore, for safety concerns and ailments kept in mind, a cricket phone for seniors is a very good choice.
Another reason to be considered is the less complicated user interface. Answering perfectly the question of what kind of phones does cricket have, we would like to tell you that they offer cellular phones that have senior-friendly features.
They have large keypads, high-resolution displays, larger than usual fonts and displays which help create a more user-friendly experience for the seniors. They also have some good safety features that help seniors in times of emergency.
If you want to gift your parents a good user-friendly phone that is not complicated, cricket cellular phones are the choice.
Also Read – 10 Best Smartwatch With Sim Card Supported (The Only Guide You Need)
Cricket Wireless Cell Phone Plan for Seniors: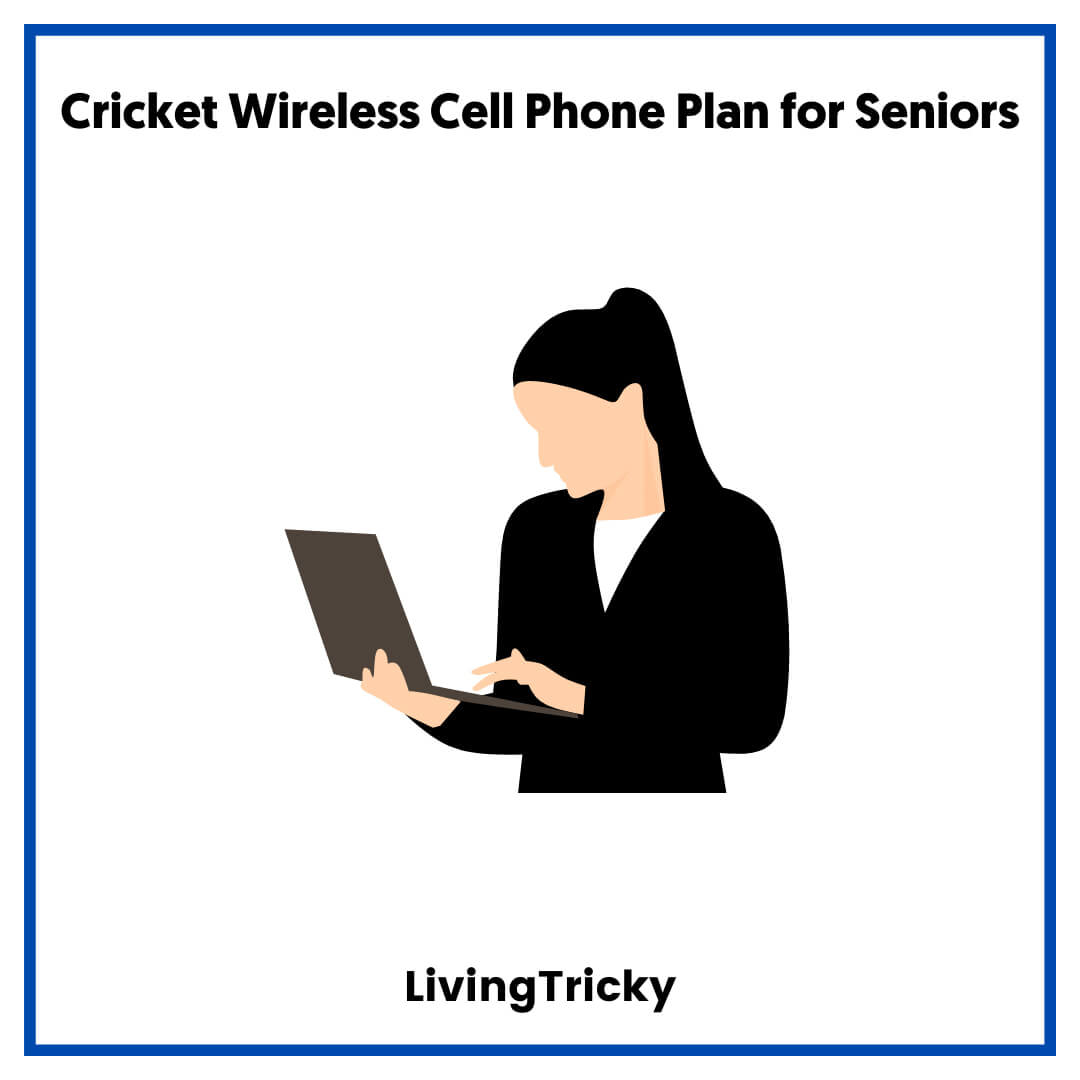 Now that we have told you all about the advantages and features that cricket phones and plans can give to the seniors, we move on to answering the question does cricket has plans for seniors, by telling you some unique plans that can be used by them.
There is a wireless monthly plan for 1 line category which has multiple plans beneficial for seniors. These cricket wireless senior plans are a good fit for you.
– The 30$ plan allows 2GB of high-speed data and unlimited calls and texts. This is a good and cheap option for seniors who don't want much internet usage.
– The $55 cricket core plan is unlimited text, call, and data at the speed of 8MP. It is also good for seniors who love talking to their loved ones all the time on the phone.
– $40 plan consists of unlimited talk, text and a total of 10GB of data. It is a good option for seniors with smartphones where internet usage is good. They can spend less and still get a decent amount of internet quota.
Also Read – Where is The Best And Cheapest Place To Buy iPhone
Factors to Be Considered Before Buying a Cricket Phone:
If you are going to buy a cricket phone for seniors there are some factors you must keep in mind for added advantages. We have listed them out.
Ease of Use: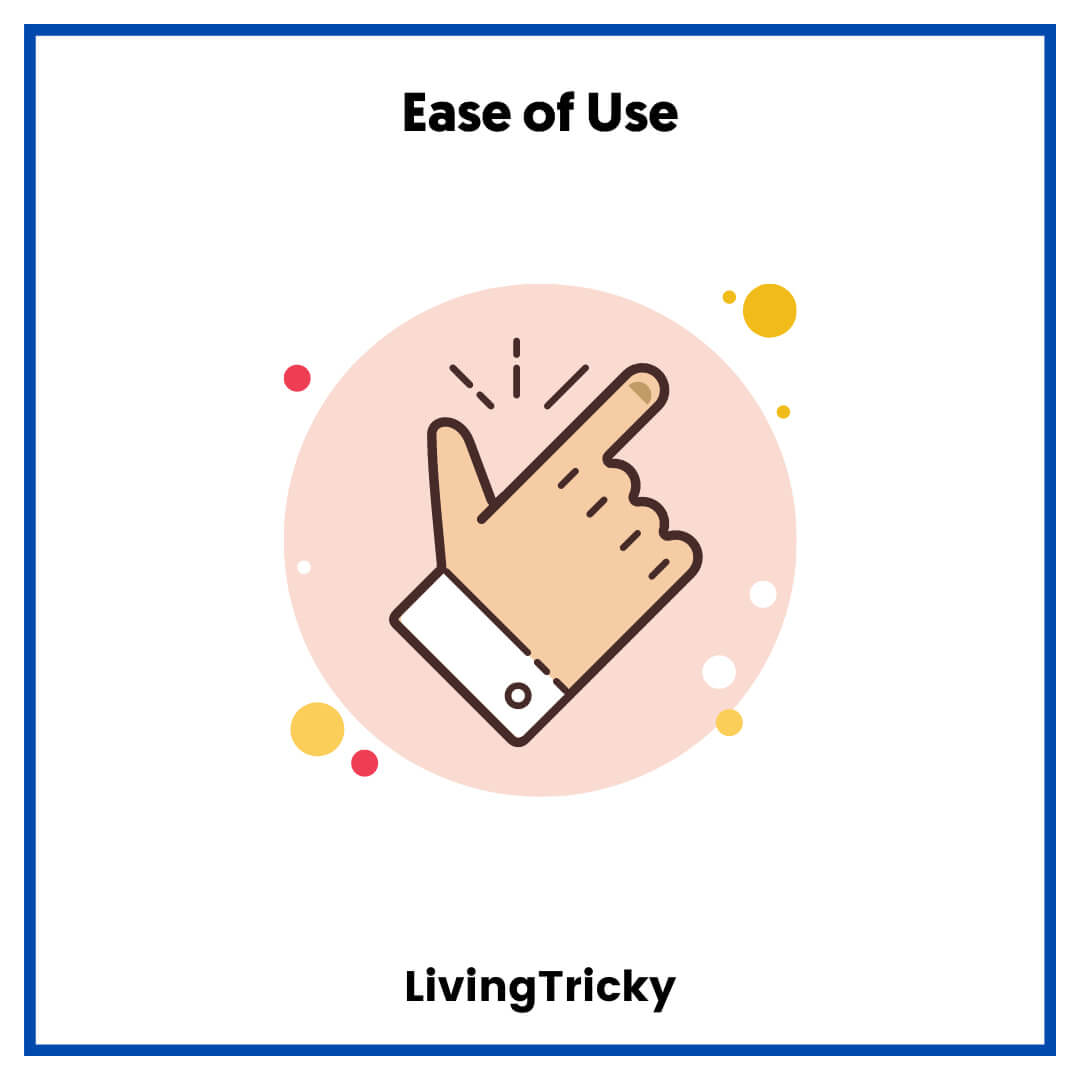 It is one of the most important factors. Ease of use means that the person can open it and shut it down easily. It is accessible and does not have small buttons that can go unnoticed by seniors often.
You might have two options for this, either a smartphone or a flip phone. Seniors usually prefer flip phones since they have this feature of automatically picking up the call by opening it up.
This saves them from the trouble of understanding too much technology. Smartphones on the other hand have the added advantage of more safety and emergency features and data user interface which not be present in the flip ones.
Also Read – How To Get Better WiFi Signal From Neighbor Internet Connection
Hardware and Software Features: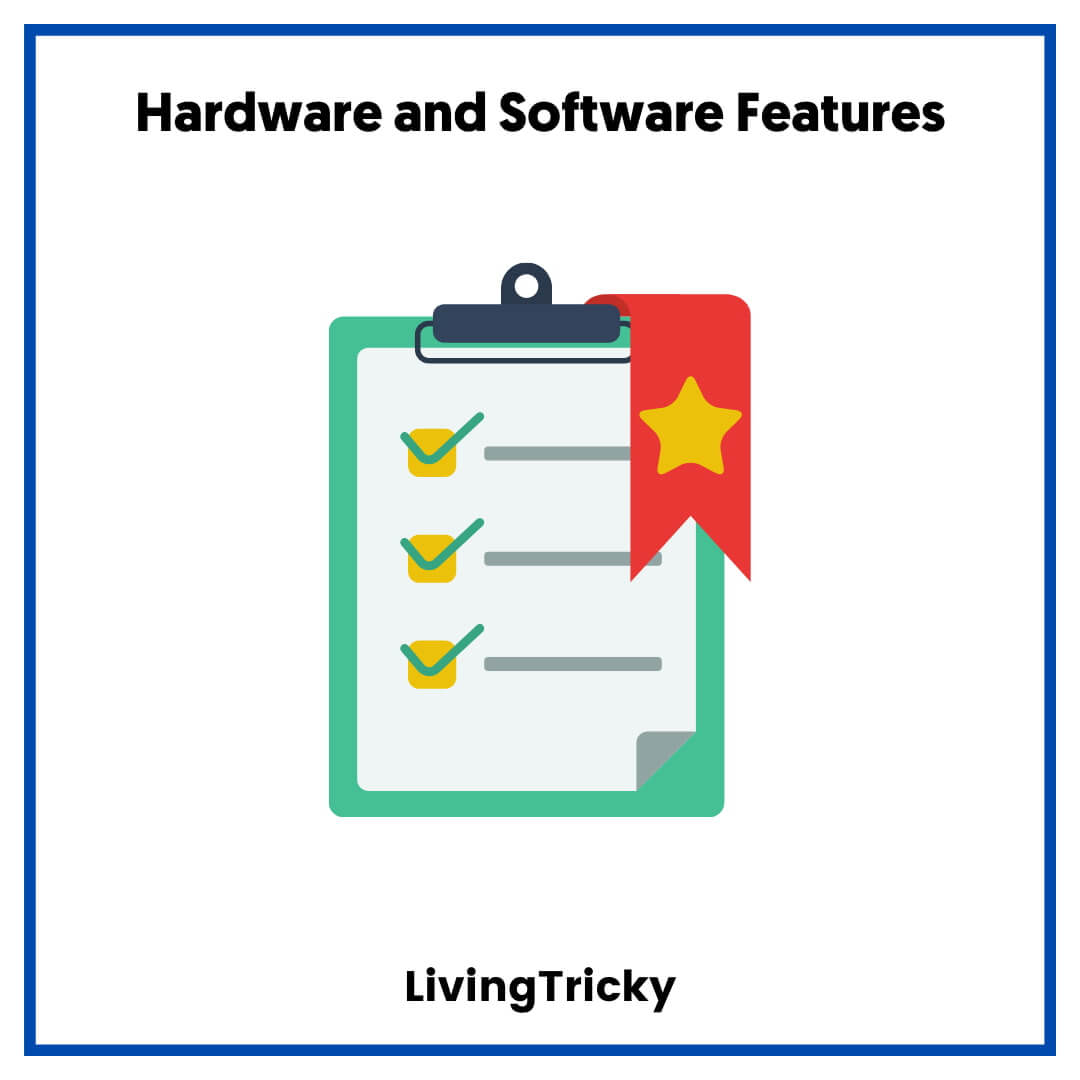 If you want to buy a phone for seniors, ask them whether they would want a keypad or a touchscreen with big fonts. Both of them are equally friendly to the elders but they might prefer one over the other.
However, make sure that the hardware is easily accessible and not too complicated to use. Similarly, voice command compatibility can also be considered before buying a phone.
Some seniors don't like typing or are not very good at it, so voice command works best for them.
Also Read – How To Get IMEI Number On iPhone If Locked: A Complete Guide
Durability: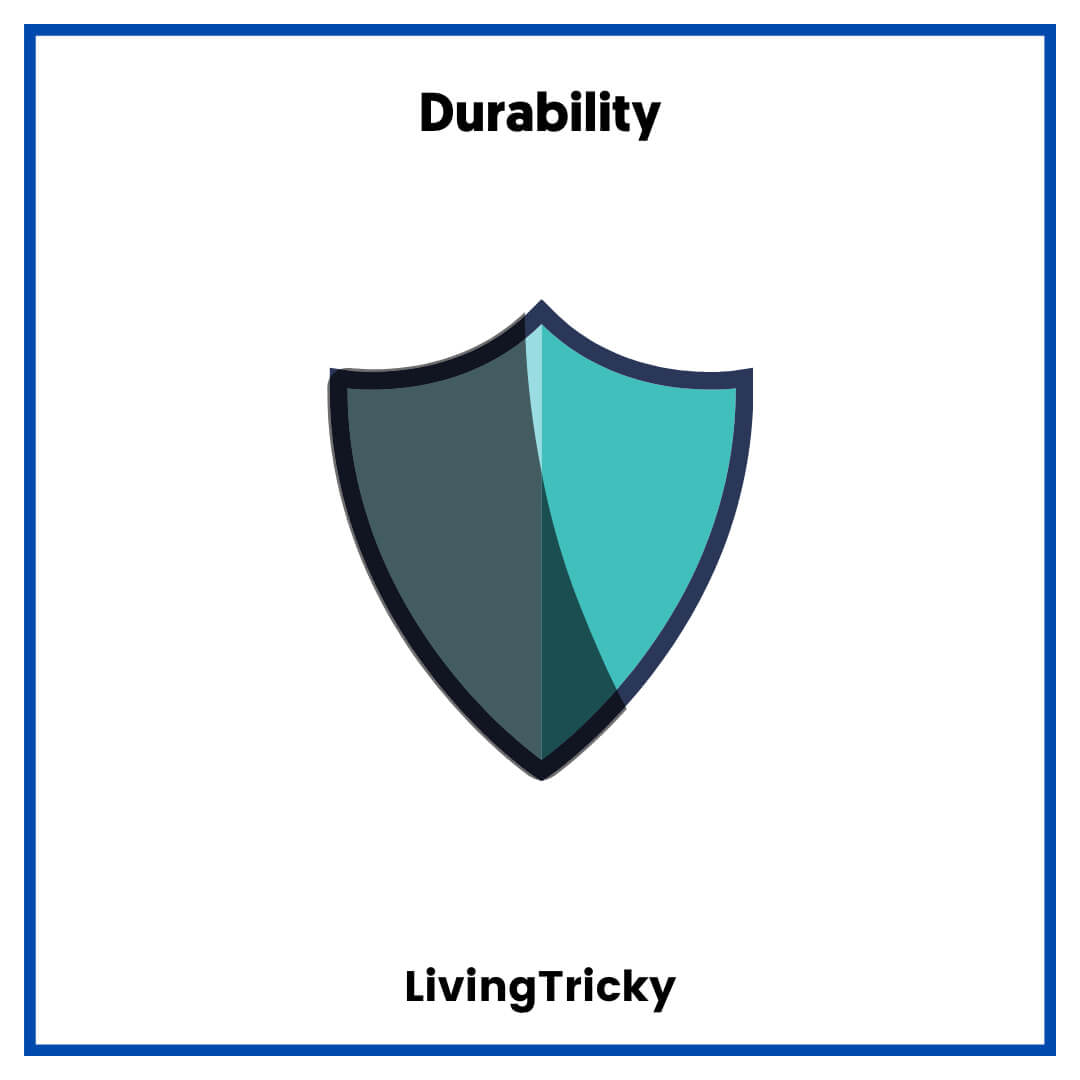 Seniors often find it difficult to repair phones. So durability should be an important factor before getting a phone for them.
A phone should be durable enough to withstand some serious falls or spillage. It may be hard to find, but there are many phones today with these features.
Also Read – How To Get iPhone Financing No Credit Check Required
Battery: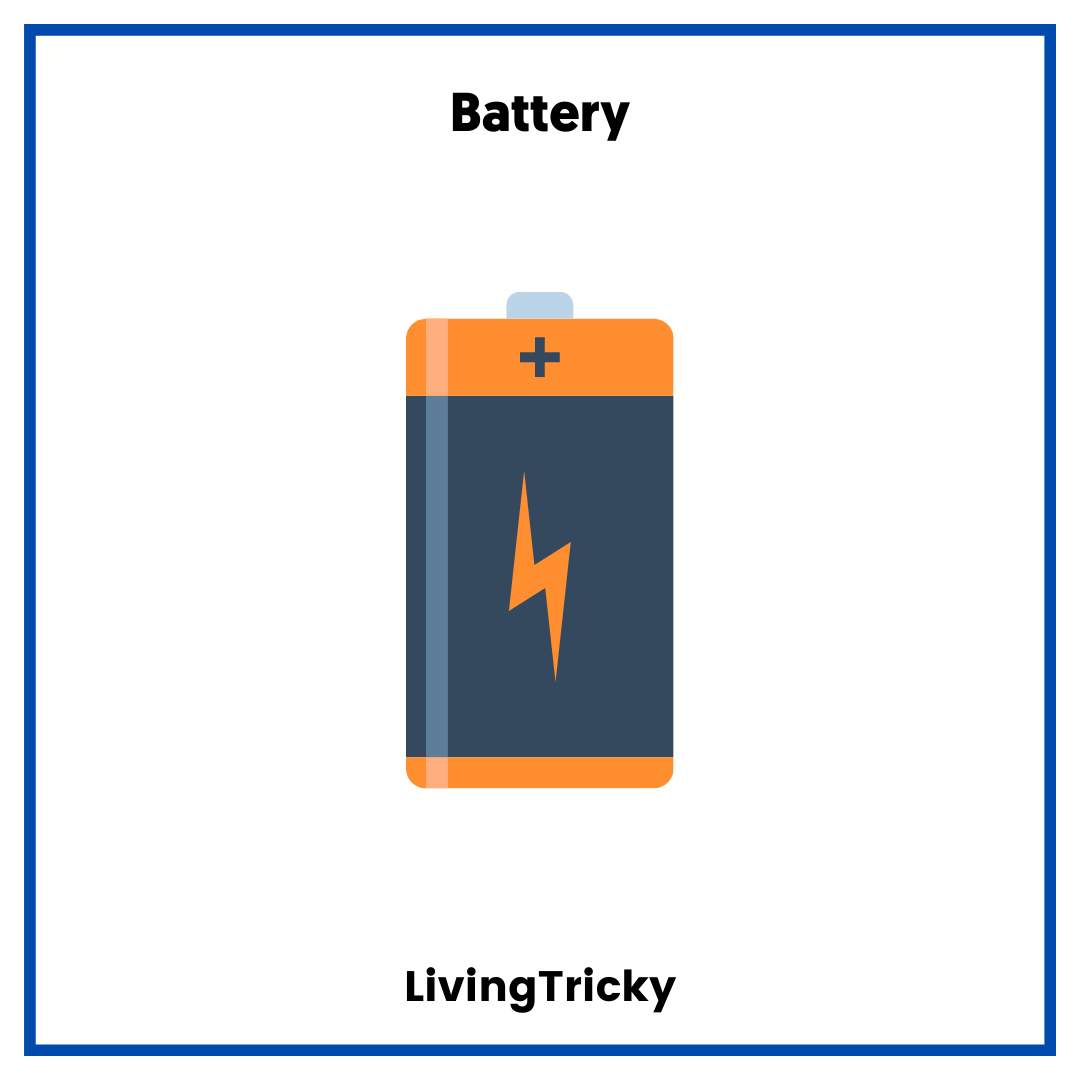 To provide a better experience, it is advantageous that seniors are provided with a phone with long battery life. This saves them the trouble of charging the device now and then.
Another factor is that battery usually degrades over time, so longer battery life essentially means longer life. This prevents the seniors from changing phones often and learning new technologies every couple of years. Give them a phone which works for years for them.
Also Read – Is MetroPCS GSM or CDMA Carrier? A Definite Guide
Speaker Quality: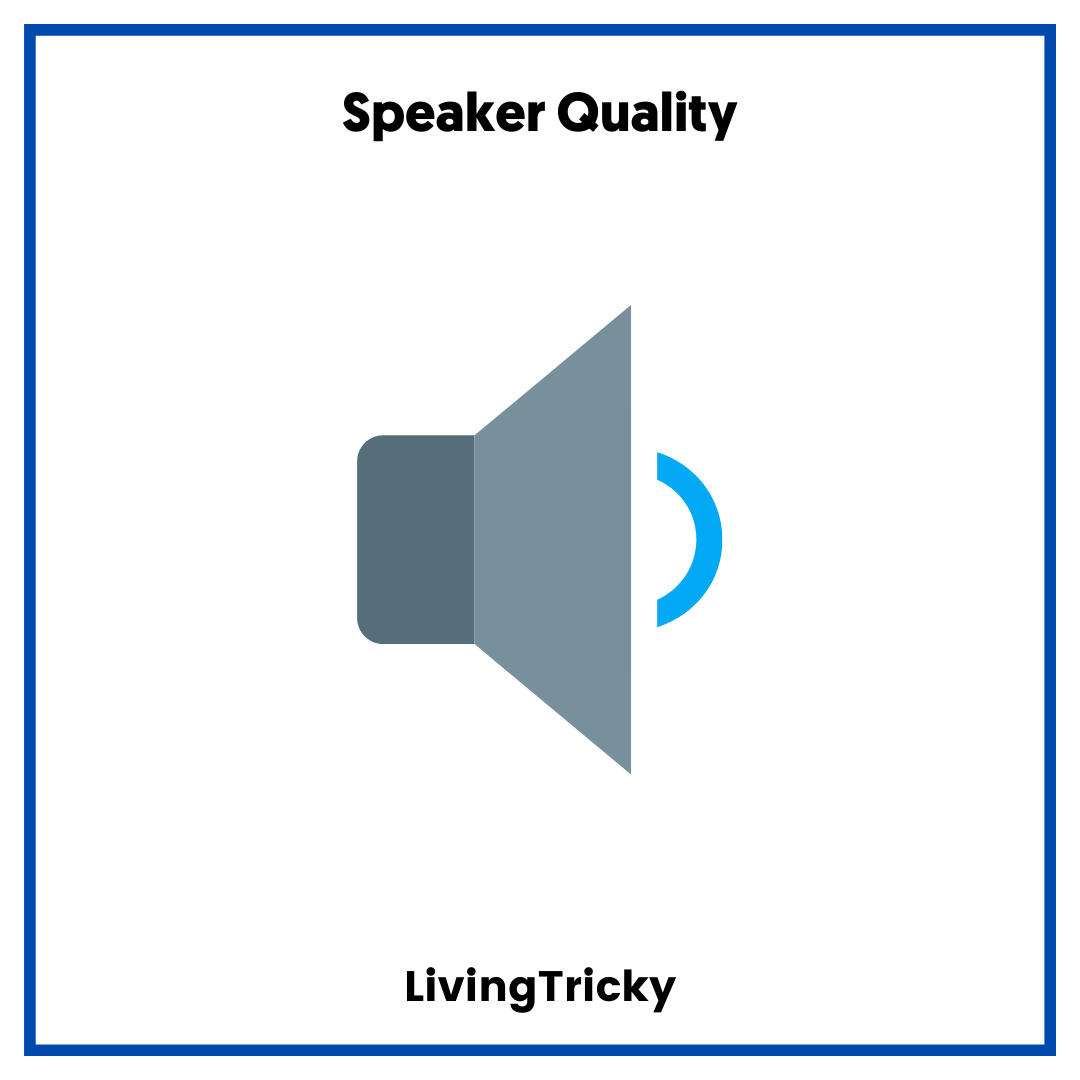 Another important factor to be considered is speaker quality. Some seniors have trouble hearing so loudspeakers can be better for them. If the sound system is too fragile, it will be problematic for seniors.
Also Read – What Towers Does Boost Mobile Use
Camera and Display: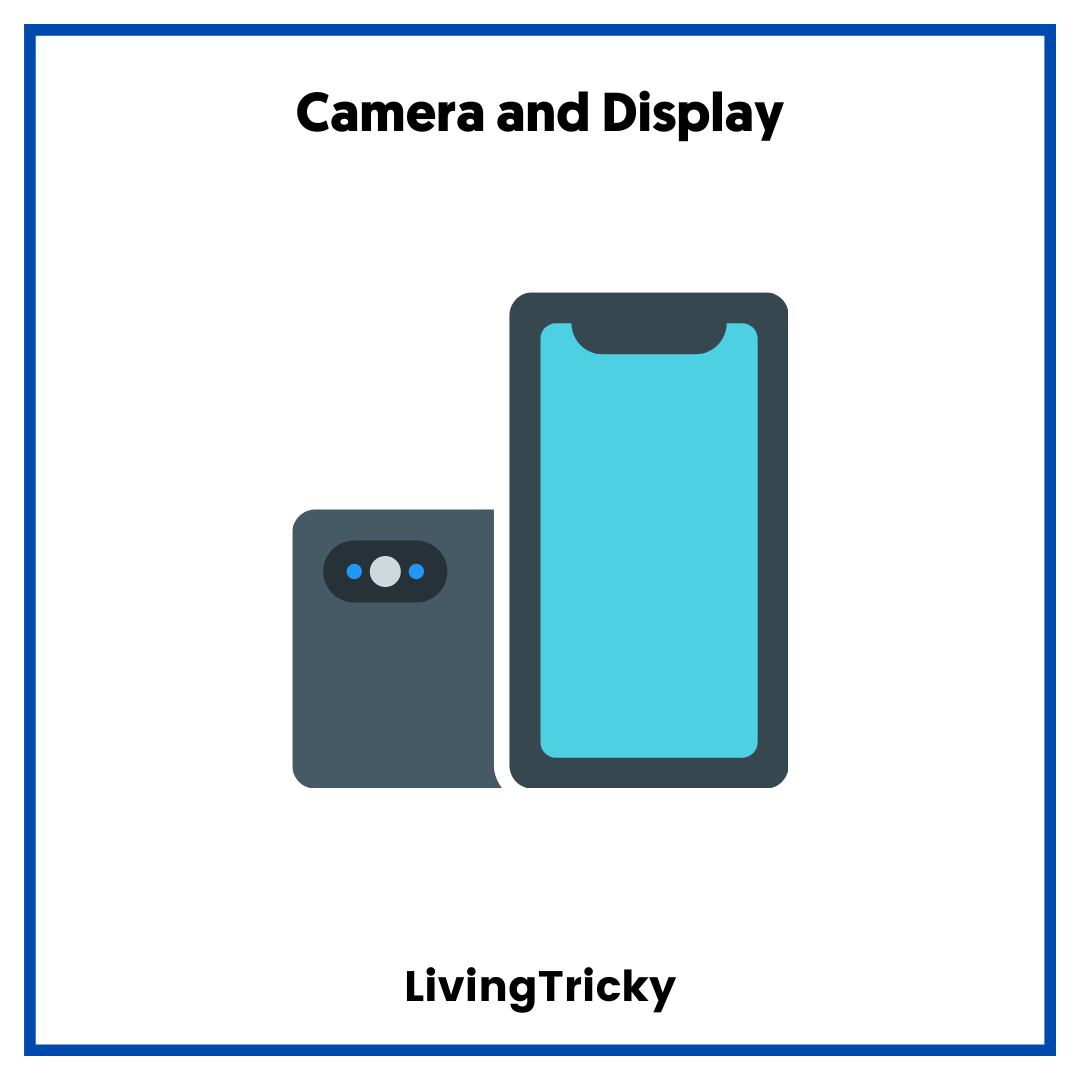 A good display is very important to be considered. It should be well lit and provide features of bigger fonts and icons so that seniors with visual ailments can easily use it. Consider a phone which has these options available in them.
Seniors then can choose according to their own needs. If your seniors love photography and want to capture their moments, you can also consider a good camera quality along with the display. Usually, phones today have good camera quality which is good for seniors and adults like for taking quality photos.
Now that you know all about different types of factors to be looked into while buying a senior phone, we will tell you different types of cricket phones for seniors you can consider. This list has been prepared to keep in mind all the factors mentioned above.
Also Read – Apple Payment Plan for Bad Credit with Easy Method
Top Wireless Cricket Phones:
This list is curated specially for you and your loved seniors.
Cricket Flip: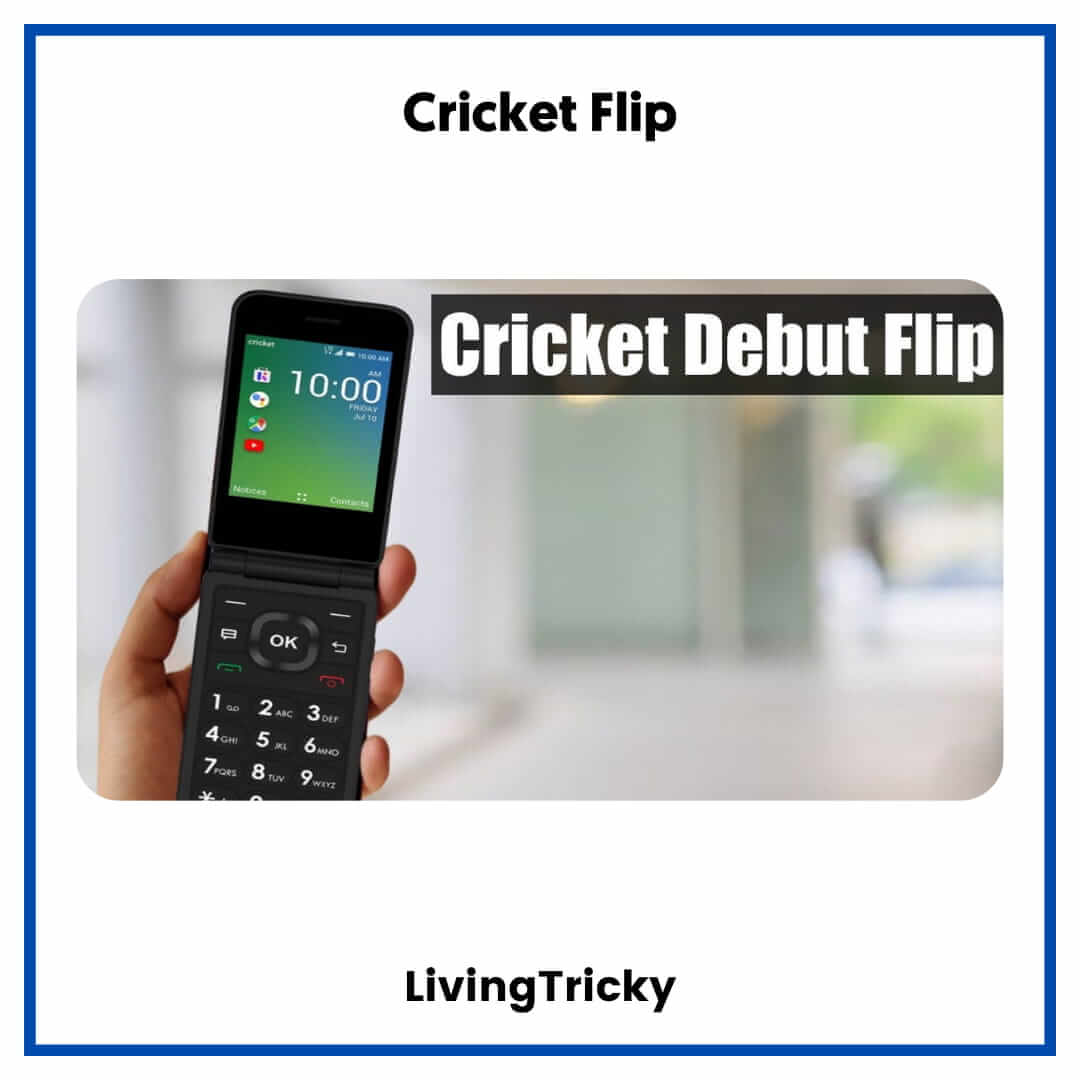 The cricket debut flip model is a unique phone for seniors with all features essential for them. It is a 4G LTE phone. It has a good and sturdy body with an easy user interface. The screen is 1.77 inches with a bright display.
The inside screen is 2.8 inch which features a good display and notifications. There is a large physical keyboard for the convenience of seniors. Despite being a flip phone, this one has a lot of features resembling a smartphone.
It has Gmail, youtube and google assistant as well. These features help seniors in staying in touch and using the mobile more conveniently. It also has an HD Voice speaker with a lucid voice that reduces background noise. A 2MP camera is also provided with video settings.
The internal storage is 4GB along with an external SD Card slot up to 32 GB. The mobile set also has a wifi feature along with conventional Bluetooth. The phone is also compatible with a hearing aid which makes it even more suitable for seniors.
It is one of the best phones in the market for seniors. It has all the factors to be considered ticked off. If anyone has visual aid, hearing aid or technological challenges, this phone resolves it all.
Also Read – How to Get Free Government Internet and Laptop for Low Income Families
Kyocera DuraXV Extreme E4810: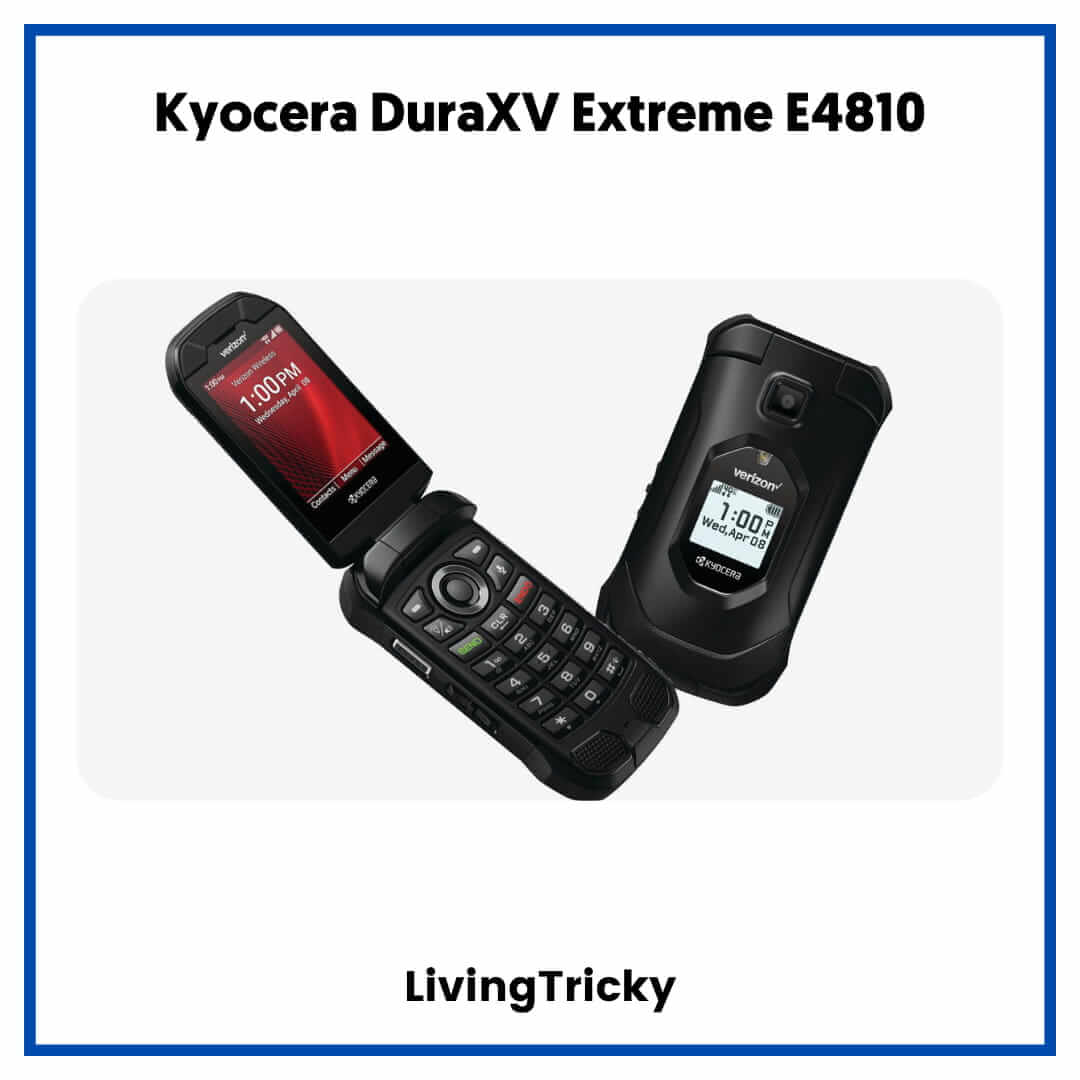 We are putting flip phones at the top of our list since usually, they are much easier to use for seniors. They are less technologically advanced even though they may have all the features of a smartphone which makes them easy to learn by seniors.
This device is a senior-friendly phone with dual loudspeakers, HD Voice calling, 5MP Camera and hotspot capability. It has 6GB of internal storage along with 2GB of internal RAM. The expandable memory can go up to 512 GB. It has a 1.2GHz Quad-core processor making It easy and smooth to use.
The camera also provides video shooting options with high quality. The battery backup is pretty awesome. It has large keypads and fonts with a simple user interface. It is not very expensive for seniors as well.
One of the best features of this phone is its durability. It looks strong, and it is very durable.
It is weatherproof as well with a sturdy design. If you are considering a tough phone with good battery life and better features for seniors, this Is the phone you can consider.
Also Read – How to Get Free Government Internet and Laptop for Low Income Families
Alcatel SMARTFLIP: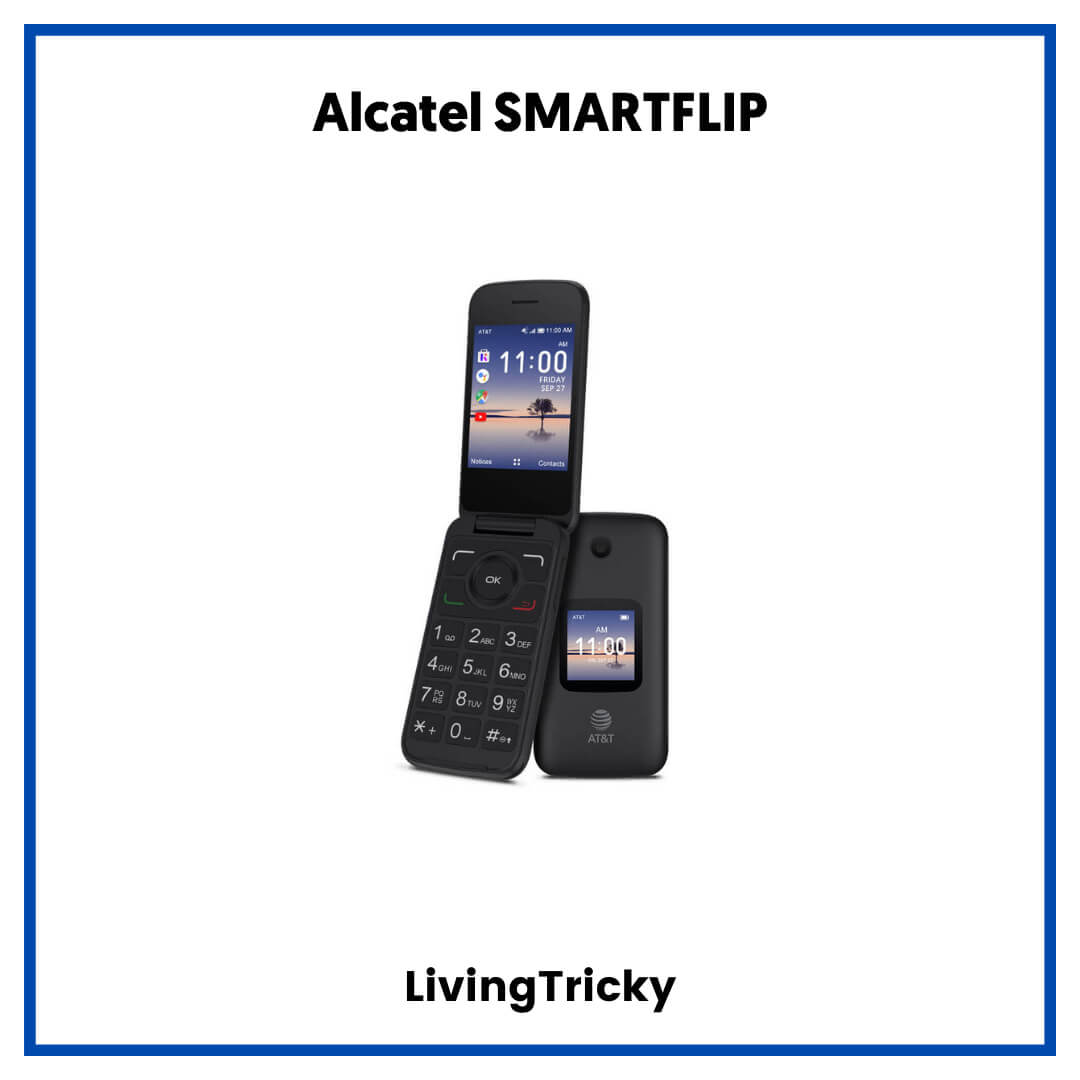 This device is one of the best cricket phones for seniors. It is a 4G LTE device with basic features and a good user interface. The device comes with a 1.44-inch external screen along with a 2.8-inch internal main screen.
The external screen displays time and calls notifications and the main screen offers big icons and an interface for seniors. It has a flexible system that can be fitted to the needs of a senior. The phone comes with a good keypad, fairly large which can be used comfortably. There are HD speakers along with minimum background noise.
Many applications and features are present in this device including Google apps, YouTube, Gmail etc. Google assistant is also provided which provides for good aid for the seniors. The phone comes with a 2MP camera with video shooting features.
The phone has a battery of 4GB which is expandable up to 32 GB with an SD Card slot. One of the best features is that it comes with hearing aid compatibility.
If you are looking for phones for seniors, this is an easy, simple yet full of features phone that has all the characteristics of being a senior-friendly phone.
Also Read – How to Get a Free iPhone and Avoid Scams
Apple iPhone: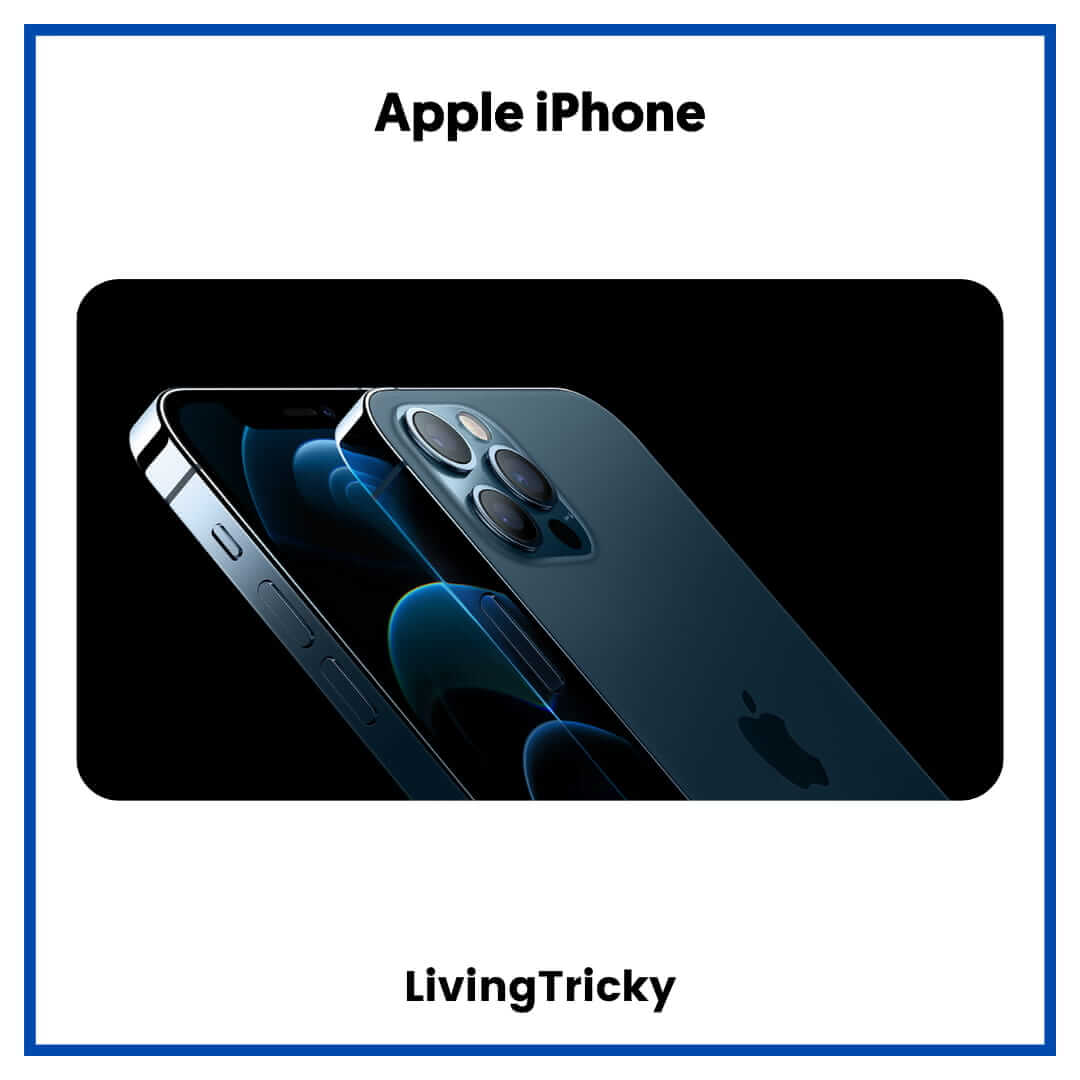 Coming on to smartphones, Apple is the best one out there for seniors. We are assuming that if you want to consider smartphones for seniors, it means they are capable enough to understand the interface and know how to use it.
Now, Apple is known for providing easy to use flawless interface to its users. They rarely hang and seldom face technical difficulties during their lifetime.
Other than this, Apple has good camera quality along with different memory options including 32GB, 64 GB and 128 GB as well. There are setting features that can enlarge icons for seniors especially.
There is an emergency call option and a voice assistance option useful for such situations. Moreover, apple's assistant Siri is known to be very helpful in making calls, texting and using the phone.
iPhone also has a good quality display screen and sturdy phone design along with being splash-proof.
Coming to the options, there are multiple models available. The choice may depend upon your budget also. If you don't consider money as a problem, you can go for the latest iPhone 12. Alternatively, iPhone SE, XR and 11 are also good options in the market right now.
Google Pixel 4a: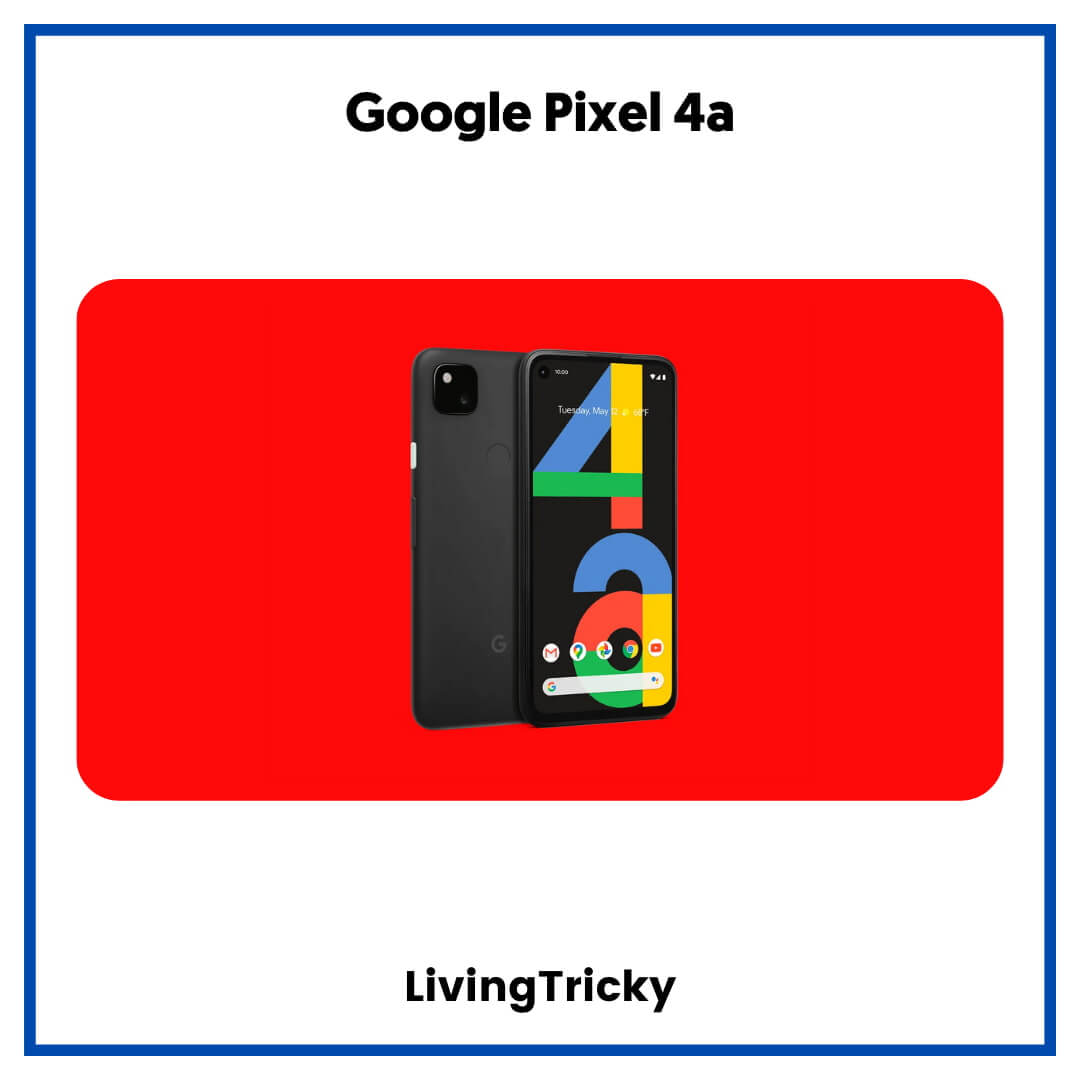 Google Pixel is the only range in the market which provides a very tough competition to Apple iPhones due to its unique and elegant features. It also provides a lot of senior-friendly stuff.
It has the flexibility to change plans and chose accordingly. Customers can also change carriers on this device. It looks spectacular with a 5.8 inch HD and OLED display. There is google assistant for seniors that they can use to make calls and messages to their loved ones.
It has a relatively better battery life than other phones of its segment and is fairly affordable as well. Another great thing about google pixel is that it provides fast charging thus allowing seniors to not spend much time worrying about charging the phone.
It has features and settings to enlarge icons to suit seniors.
Other than this, it also offers an amazing 12MP camera with video shooting settings. The pictures clicked through the phone are unique and vibrant. The easy user interface is also very helpful in dealing with the technology.
Samsung Galaxy S20 FE: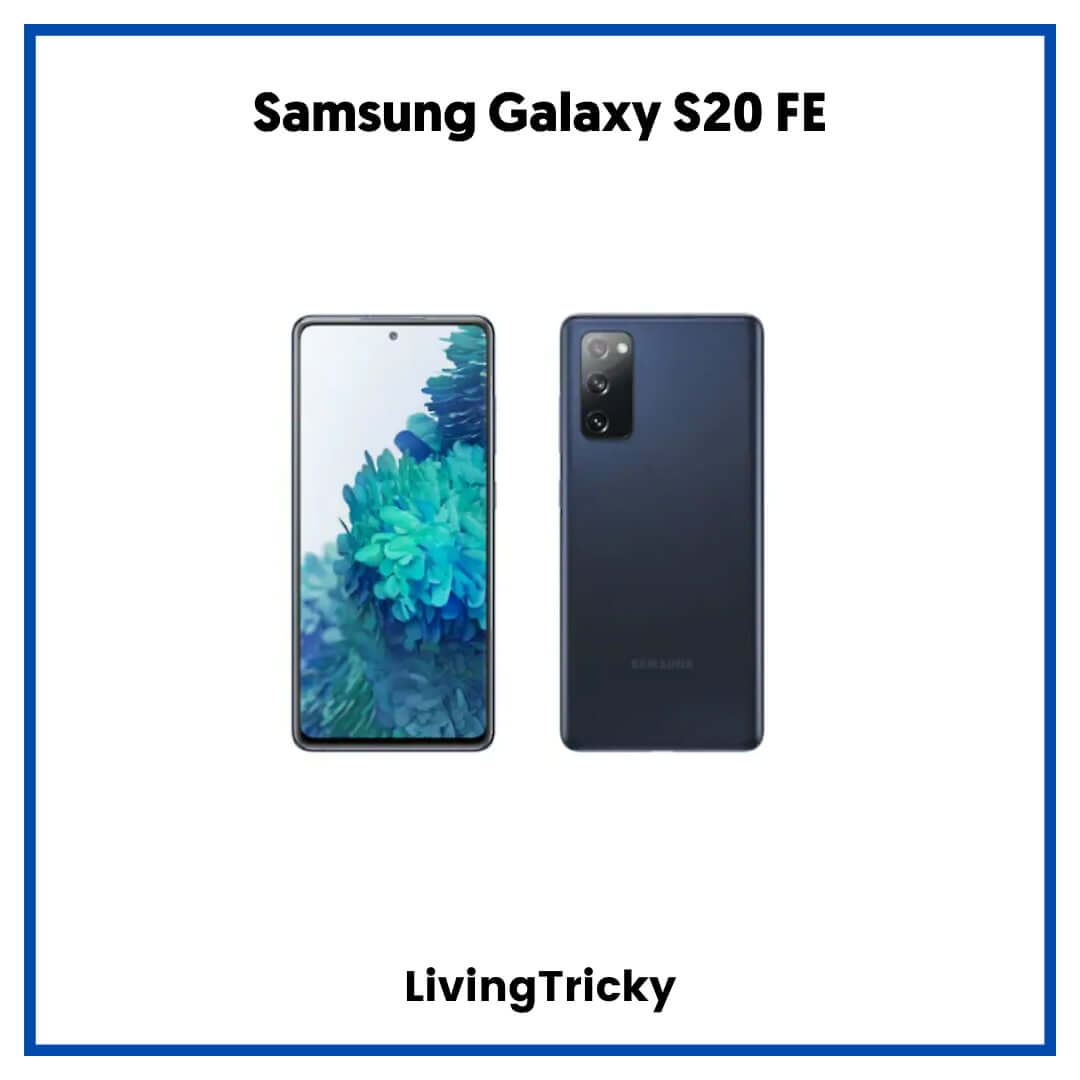 This is one of the most popular Samsung phones on the market. This cricket wireless phone offers features to seniors that are often lacking in other phones. It has a 6.5-inch display with FHD Infinity which provides vibrant and a unique display for seniors to use.
The device uses Qualcomm snapdragon 865 which prevents it from lagging after a certain time. The user experience is fast and seamless on this device. The battery life of this device is also great which provides seniors with much-needed breaks.
It has a good storage capacity along with fast wifi and Bluetooth capacities. It ticks off all the boxes necessary for a phone to be good with seniors.
The device also comes with a 12 MP main camera and 32 MP front camera which provides a great video quality experience to the users. The internal storage of 128 GB allows flexibility to the users.
Samsung Galaxy Note 20: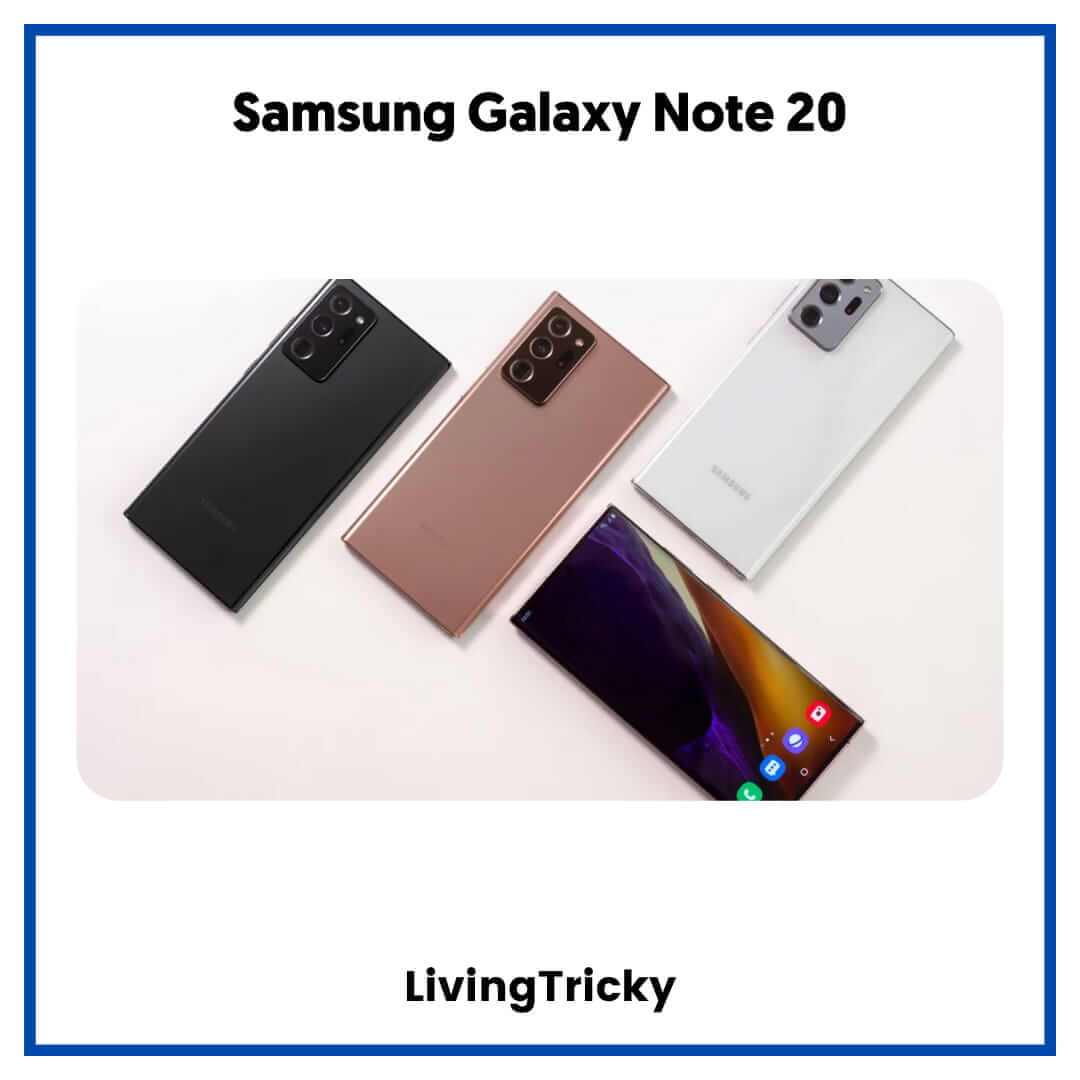 Another spectacular phone in this category is provided by Samsung in Note 20. Notes are bigger phones that come with a stylus for an easy user experience. This feature is exceptionally helpful for seniors who find it difficult to use touch phones.
It has a 6.7-inch display which provides a good display to seniors. There are two cameras, the main one being 12 MP wide-angle with 64MP telephoto camera and the front one with 10 MP. It can have a good video call experience as well.
The battery is 4300 MAh which provides a very long battery life exceptionally suitable for seniors.
Other features that help seniors are health applications, activity trackers, emergency options, medication reminds etc which are good for seniors living alone. It also provides features to enlarge icons and display for a better visual experience.
The internal storage is 256 GB along with 8 GB ram which provides good capacity and flexibility to the users. Note 20 is a bit expensive, but if money isn't an issue for you, it is one of the best options available in the market.
Jitterbug Smart 2: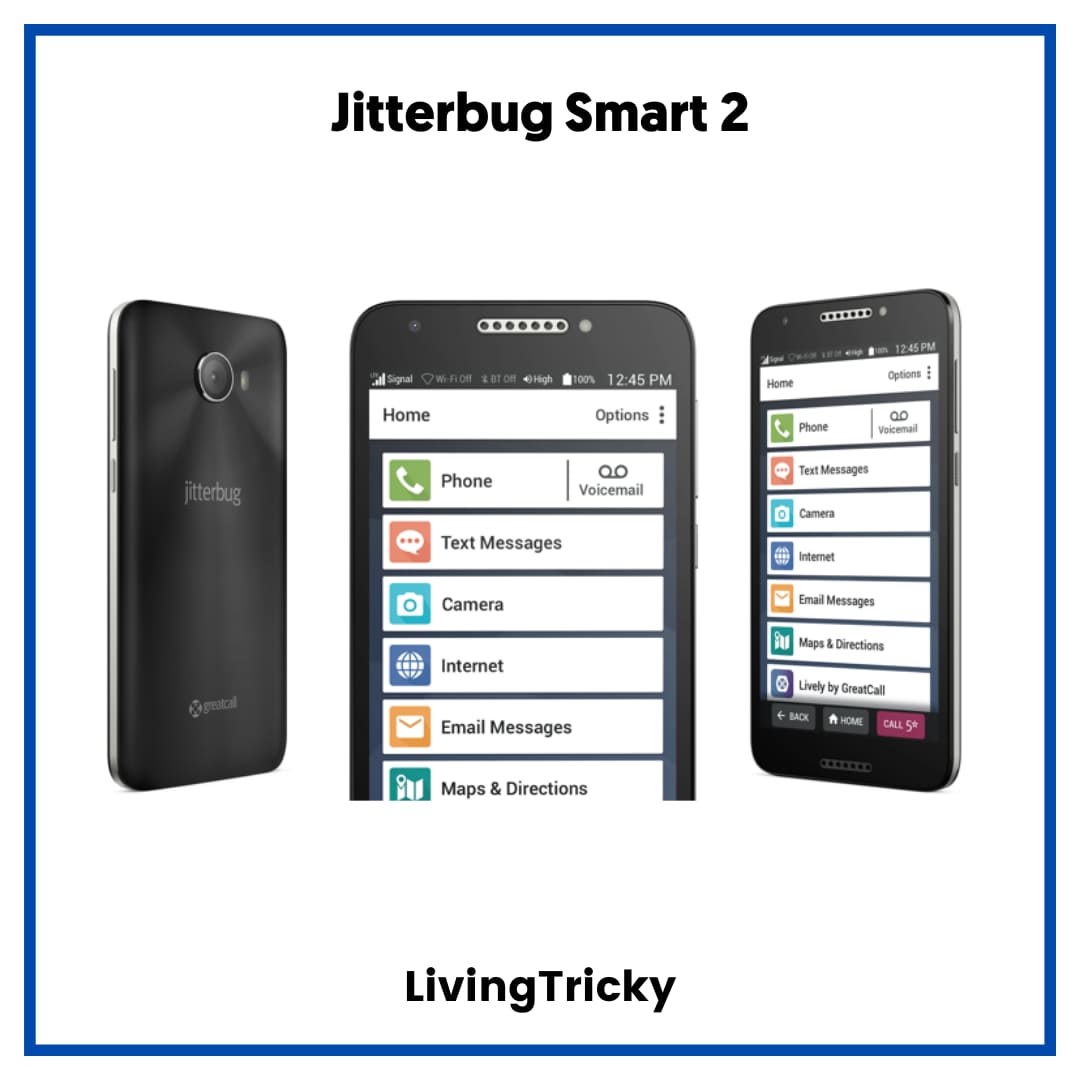 Jitterbug is a popular company that is known for providing easy to use phones to customers. This makes it especially good for seniors. It has a 5.5-inch screen with larger fonts and icons options which are good for seniors.
It has an internal storage of 32 GB offering flexibility. One of the best features of this phone is the Urgent Care app that enables the users to contact neighbours and doctors during the time of emergency.
Another application known as the GreatCall Link application notifies family members and relatives about the health of the user. It is an additional feature present only in these devices, making it exceptionally suitable for seniors.
It has an easy to use interface with a good display. Although the features are not as vast as other smartphones, it is a good choice for people who do not like spending much time with their phones except for needs.
Seniors fairly fall under this category. It also has voice typing features that assist seniors in typing texts.
The device is unlocked so users can change carriers and plans according to their needs. The phone isn't much expensive as well since it is meant for seniors and have the features necessary for it.
If you are looking for a device that provides a simple interface with all essential features of safety for seniors, this is a great choice.
Frequently Asked Questions: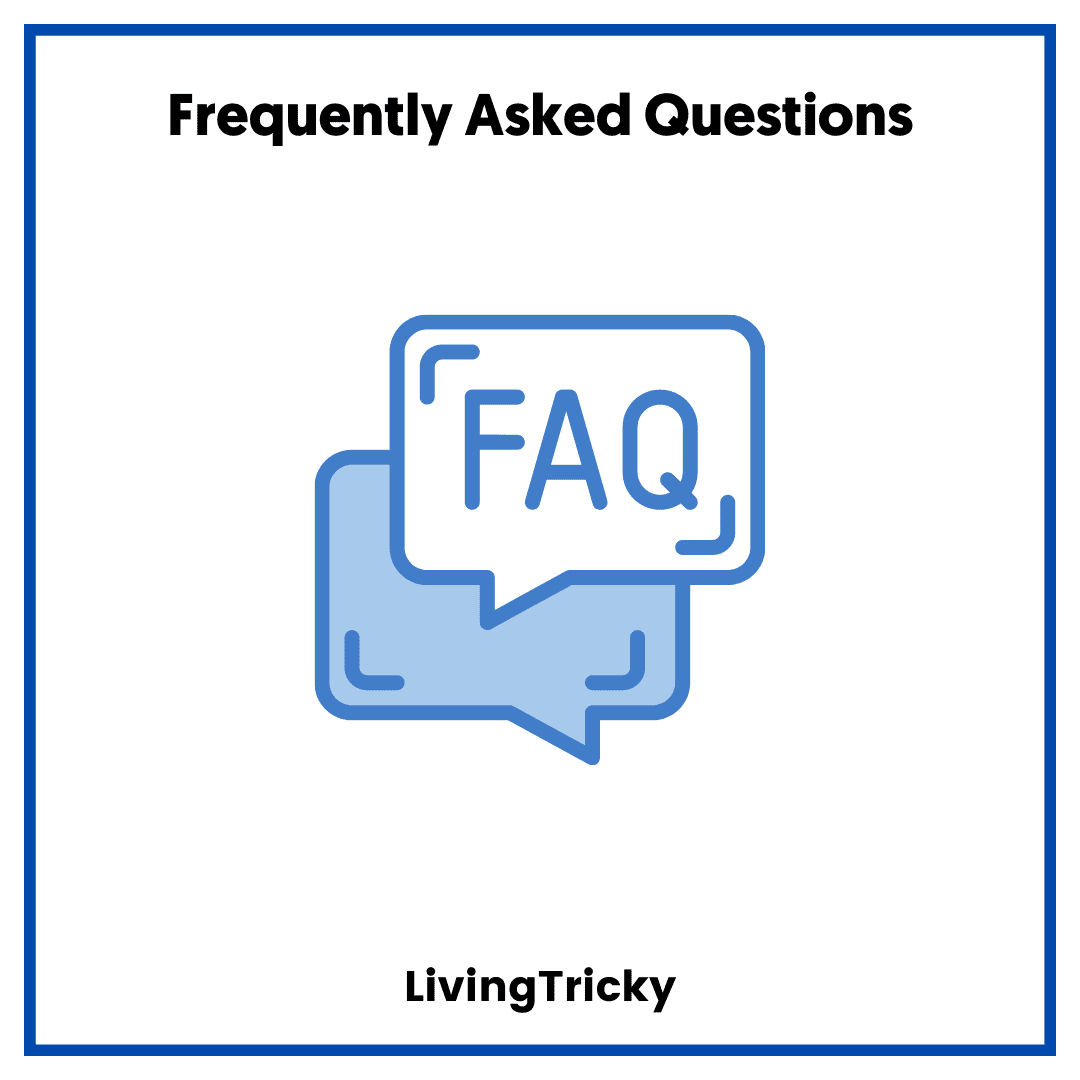 Now that we have provided you with a list of all the different phones available and factors to be kept in mind, we are going to answer some questions for the readers that are frequently asked.
1. Does Cricket Wireless Have Senior Discounts?
Simply, No. Even though cricket wireless phones have a vast range of phones good for seniors, and plans that benefit them, they do not provide a discount to them.
This is the current scenario that might change in the future. If you want a discount you can look for other types of discounts available online including festive ones, sales etc.
2. Does Cricket Have Plans for Seniors?
Again, no. Cricket specifically does not brand its plans specifically for seniors since logically it might restrict their customer base to a large extent. Instead, they have great plans that are useful for seniors.
Their plans start at only $ 30 per month with good internet speed and unlimited talks and texts. Seniors often don't need too much data limit which makes this plan ideal for them.
Moreover, some offers allow you to use 4 lines at $ 100 per month including unlimited texts, calls and data. You can look up for their plans that are flexible, inexpensive and suitable for seniors.
3. What Kind of Cell Phones Does Cricket Have?
Cricket has a vast variety of phones on its platform starting from Apple to its Debut Flip phones that are exceptionally suitable for seniors. It also has Samsung phones along with its phones like Prepaid flips.
So you can have a fairly large amount of flexibility in looking for cricket phones. It also provides various deals to its users.
4. Which Is the Best Cricket Phone for Seniors?
This is a pretty subjective question however when various factors mentioned above in the article are looked into, the Cricket Debut Flip or Alcatel SMARTFLIP seems to have an edge over others in case of senior use.
They have an easy interface with decent features along with a flip body which eases the load on seniors. They have bright displays and good battery life too making them a good option.
Along with this, they provide features like bright and large icons with big keypads for ease of typing and calling. Overall, these are good options.
If a senior is comfortable with using smartphones and touchscreen, iPhone's latest models are the best options out there due to their easy interface, smooth user experience and features of large icons, bright display.
They also have emergency calling options with voice assistance making it easier for visually impaired seniors.
Ending the Article:
We have tried to cover all the topics related to cricket phones for seniors in this article. Not only rating the phones, but we have also tried to guide you into choosing a suitable phone by telling you different factors involved that should be kept in mind.
We have also detailed some unique and affordable plans provided by the cricket that are flexible and cheap.
 We have also answered some frequently asked questions related to this topic. The only thing that is left is you making a decision based on this. Make sure you buy the best one out there based on your factors.
Let the seniors buy something they are happy to use. In the end, all that matters is comfort and ease in using the phone, which can be provided by all of our suggestions above.