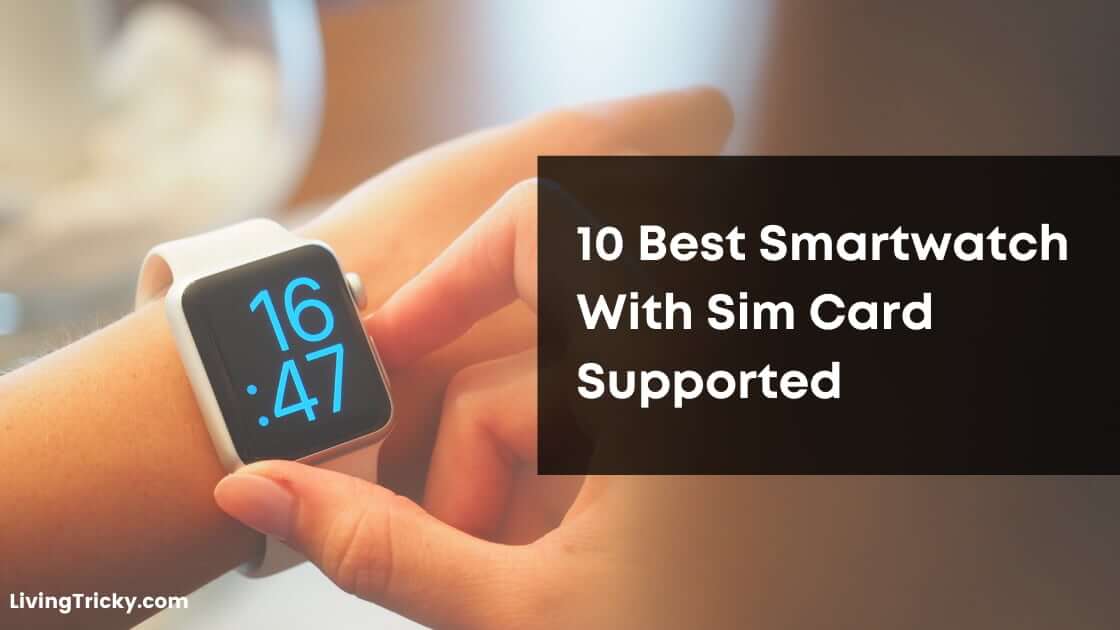 Today I'm going to share with you the 10 Best Smartwatch With Sim Card Supported (The Only Guide You Need).
Technology has taken leaps in unprecedented manners over the last few years. We can use things in a manner we never thought we would be able to do.
Take smartwatches for example, who would know that you can actually wear your whole mobile phone on your wrists. Smartwatches are wearables with all features of a mobile phone that is connected to them.
The technology has also leaped to introduce watch with sim cards. You can pick up calls, call someone, text someone and do so many other activities just on your wrist.
The GPS and the health monitoring system has also allowed smartwatches to appeal to different kinds of audiences including kids, sports lovers, adventure lovers and so many more.
Even in smartwatches, there are different types of watches available in the market.
There are regular ones where you can check your walking distance, measure your sleep, download apps and other activities, then there is a smartwatch with Sim card supported technology that helps you do everything a phone can do. This phone watch with sim card connects you to your chosen network carrier. They also have a GPS, music etc.
Smartwatches are one of the best technology investments you can have right now. Apart from acting as a phone, it can do a lot of things that benefit you.
Keeping a track of your physical activity, reminding you of important matters, keeping you connected to your phone even when it is a bit far away from you, telling you about your health are just a few things smartwatches are capable of these days.
This is why they have become increasingly popular in the US and other countries of the world. Companies like Apple, Samsung and sportswear companies have started making smartwatches that are state of the art.
Today, there is a concept of the smartwatch with a 4G sim as well.
We are here to tell you all about a smartwatch with Sim card supported because if you are going to invest in one, you should know about the best technology out there. We are going to explain why a smartwatch needs a Sim card, and what are its benefits.
Along with this, we will also tell you some of the best smartwatches with sim card support present in the market today. We hope we will be able to help you make an informed and wise decision.
Also Read – Where is The Best And Cheapest Place To Buy iPhone
Why Do Smartwatches Need a Sim Card?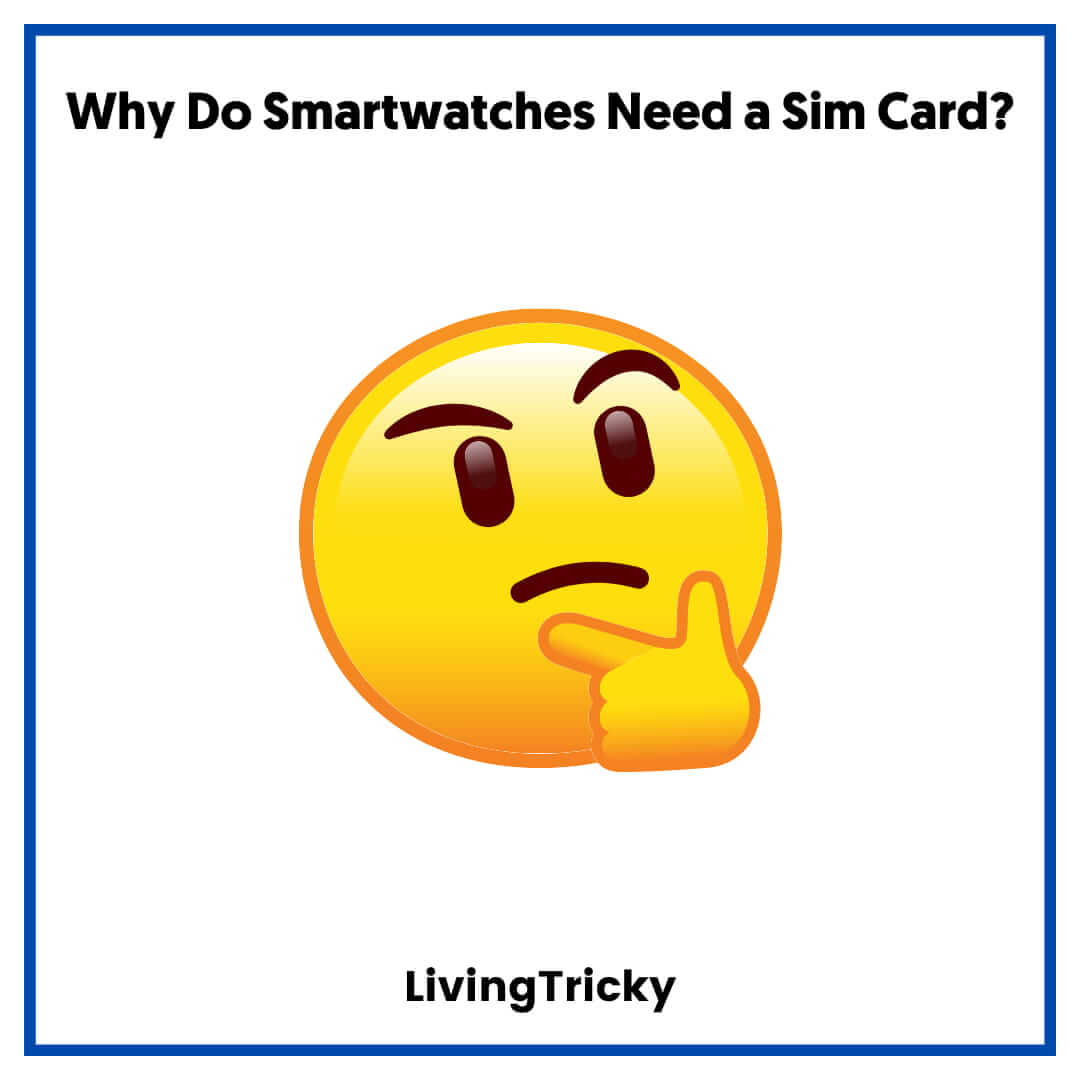 Till now, we have heard of smartwatches telling us our heart rate, burnt calories and so much more. Then they started getting connected to our mobile phones and helped us be in touch with the world in a better way.
Now, this technology has ramped up to having smartwatches with sim cards. Till now, Bluetooth used to be the key to connecting our mobile phones with smartwatches. What now?
Bluetooth is an old technology that revolutionaries the technology world. Today, it is used to connect phones to watches within an area coverage of up to 10 meters radius.
When a mobile phone is connected to a smartwatch using Bluetooth, it transfers all the data to the smartwatch using the cellular connection. Most of the smartwatches in the market work only when paired with the phone.
There are some newer watches that do not use Bluetooth to connect. They are stand-alone devices having a network cellular capability of their own.
There is unique identification data in the Sim microchip which creates information ultimately connecting the device and the carrier. These chips also help in preventing the SIM card from connecting to any other devices and networks.
As you know, there are three types of SIM cards available in the market. The nano-sim, which is the latest technology and is used in high-end phones, the micro-sim, which is relatively older but still new, and the standard SIM which is being used since mobile phones came.
Today these SIMs are also used for phone watches with a sim card, and different watches use different types of sims.
Now that we have told you why sim cards are nowadays used in smartwatches, we will elaborate more on different types of smartwatches available with SIM cards in the market.
Also Read – How To Get Better WiFi Signal From Neighbor Internet Connection
1. Apple Smartwatch Series 3: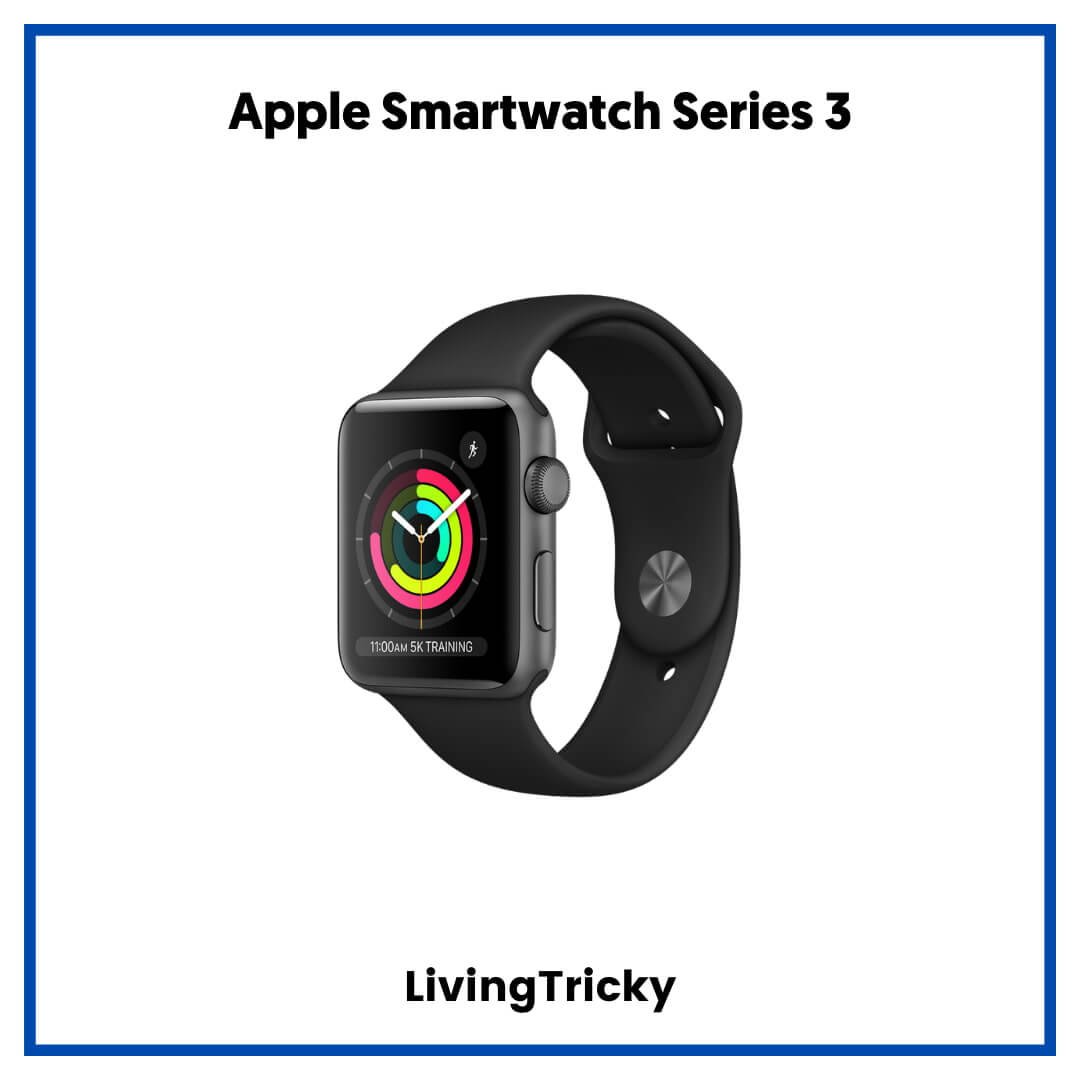 Well, Apple is one of the best companies out there if you want some high-quality technological experience. Its smartwatches are of fine quality, made with an aluminum body and different straps.
It is one of the best smartwatches on the market. It is fully waterproof, so if you randomly decide to dive into a pool with your smartwatch, don't worry, it won't matter. Apple smartwatch 3 tracks heartbeats, heart rates, walking steps etc as well.
It has an inbuilt GPS system and Wifi with proper connectivity. It functions on an S3 Dual processor with a digital crown. Usually, the battery life oscillates between 15-18 hours.
Pros:
It is an apple product, so it comes with guaranteed elegance. It has a sleek and smooth body that goes with every outfit. Its slender yet elegant design has made it one of the most sought after watches of the year.

It is waterproof, and it can be used up to 50m of water for swimming and other water-related activities. So you don't need to worry about minimal water damaging your smartwatch.

It has many features such as making calls, payments, replying to texts that make your life easy.
Cons:
One of the main disadvantages of Apple products is that they are very expensive, and cannot be afforded by everyone. Apple smartwatch is no different. It is extremely pricey as well.

The battery life of this series smartwatch is also considered as a con, since too many applications when functioning simultaneously drain the battery very fast.
Also Read – How To Get IMEI Number On iPhone If Locked: A Complete Guide
2. Topepo Bluetooth Smartwatch: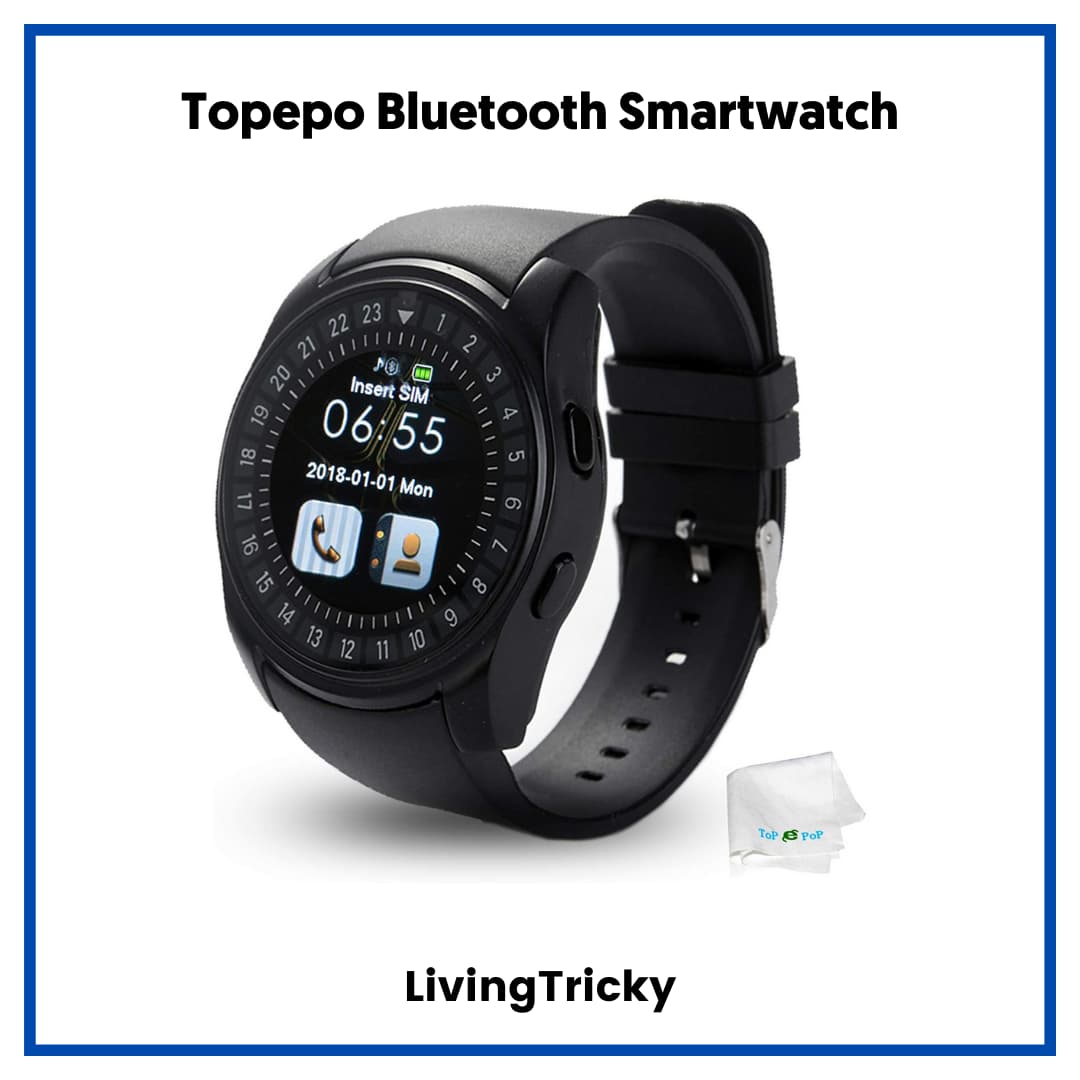 This is a smartwatch with a 4g sim that also works on Bluetooth. It is one of the best picks on the market. You can access the internet, make phone calls and text with this smartwatch.
It has a good user interface and supports hands-free calls, synchronization, tracker, fitness applications and so much more. The hands-free feature allows you to make phone calls without using the phone. It is a big feature for emergency calling situations.
Let us look at some of its pros and cons as well.
Pros:
Good interface – Users have recommended this watch based on its good user interface. It is smooth and easy to use as well.

It is a

smartwatch with Sim card supported

, which makes it an ideal choice.

It is compatible with almost all android phones as well including Samsung Galaxy, OPPO, HTC etc.
Cons:
Size – Sometimes users don't like too big smartwatches. If you are into big watches, then this one is perfect for you, but if you're not, this may not be the ideal choice for you. It is relatively bigger than other watches of the same category.

It is not compatible with iPhones. Well, most of the iOS functionalities cannot function in this watch, excluding a few.
Also Read – How To Get iPhone Financing No Credit Check Required
3. Zeblaze THOR 4 Dual Smartwatch: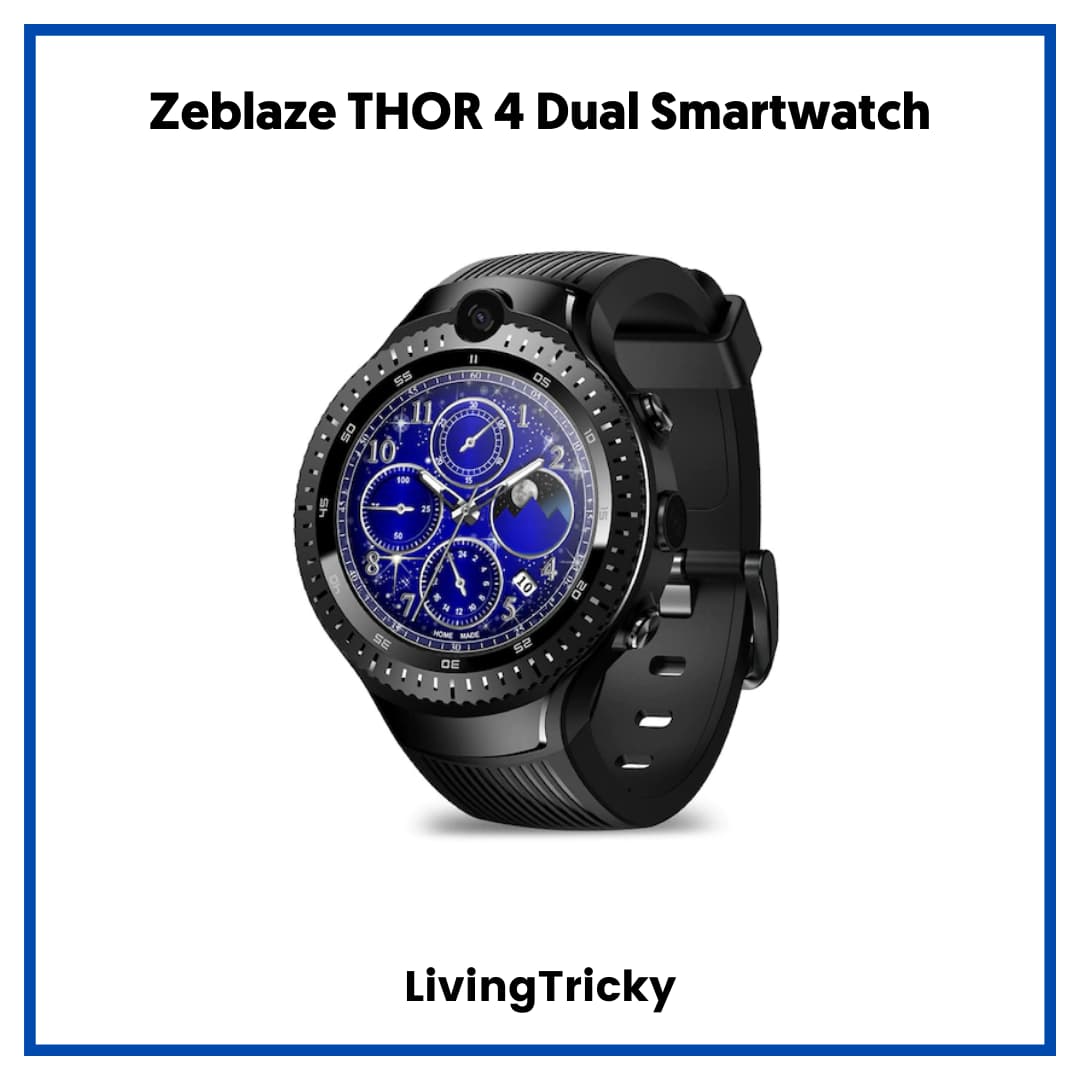 This model also comes with a Simcard. Unlike other smartwatches, this one doesn't have that look. it is designed keeping in mind the conventional watch style, combining it with modern technology.
It has a stainless steel alloy surface with meticulous detailing that will make it stand out from its competitors. It has 12-inbuilt sports modes along with a tracking state for sporting activities, movements and health.
It has a 16GB memory, with a 5 MP camera which can also allow you to make video calls of high quality. The camera comes with digital zoom. Its skin to body ratio is 85% and provides for a unique look to the users with an aluminum frame and tempered protective glass.
Now, let us look at some more features of this watch and the pros and cons it offers.
Pros:
It has a unique and sleek design that fits well with all kinds of outfits. It blends easily.

It is available in 12 languages, so you don't have to worry about that.

This watch has one of the best batteries in the market, with a 580mAh battery. It is fast charging and can work up to 42 hours with a full charge. With this watch, you don't have to worry about the battery running out.

The battery point is magnetic, which makes it very easy and convenient as well.
Cons:
Even though the features provided justify it, this watch is a bit expensive. If you are willing to invest that much, it will be worth it.

It is not waterproof, so no swimming with it at all.

   
Also Read – Is MetroPCS GSM or CDMA Carrier? A Definite Guide
4. Samsung Gear S3 Frontier 4G LTE: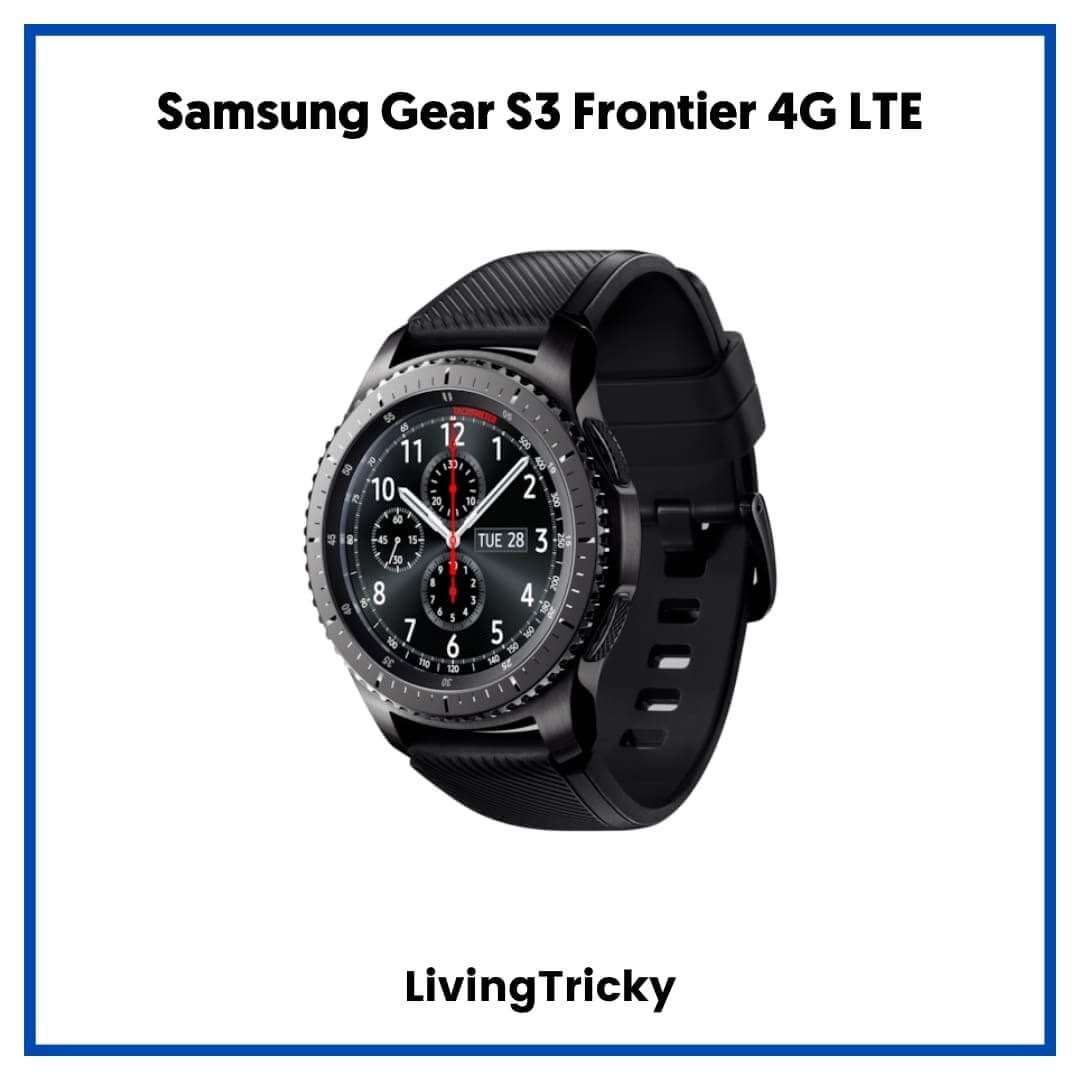 This is another option in the market for a smartwatch with sim card slot. It uses an eSim, and it gives you the freedom to choose your carrier freely without being tied to any single network service provider.
You can use your phone on a different carrier as well. However, for maintaining good compatibility, it is better if you use the same network carrier.
One of the most prominent features of this smartwatch is the voice command feature. It helps you multitasking without risking sabotaging any of the tasks. You can command your watch to call someone while you're driving.
If you are looking into a Samsung watch, it works best with Samsung mobiles. If you own a Samsung phone, it is probably best you go with this one.
Now that we have looked at the features, let us list out some pros and cons.
Pros:
The Voice command feature provided by this is really good and apt. It has good functionality and usage.

The watch is water-resistant, that is splashes etc will not ruin your watch for you.

It is very durable and sturdy. Even if you use it roughly, there are lesser chances of damage than other watches.
Cons:
Based on user experience, the worst part of this watch is its battery. It doesn't last for more than 12 hours at a maximum which upsets the users. No one likes charging their watches every 12 hours.

This smartwatch is locked, therefore you will have to get it unlocked from your service provider if you want to use any other network on it.
Also Read – What Towers Does Boost Mobile Use
5. Evershop Smart Watch Phone with Sim Card Slot: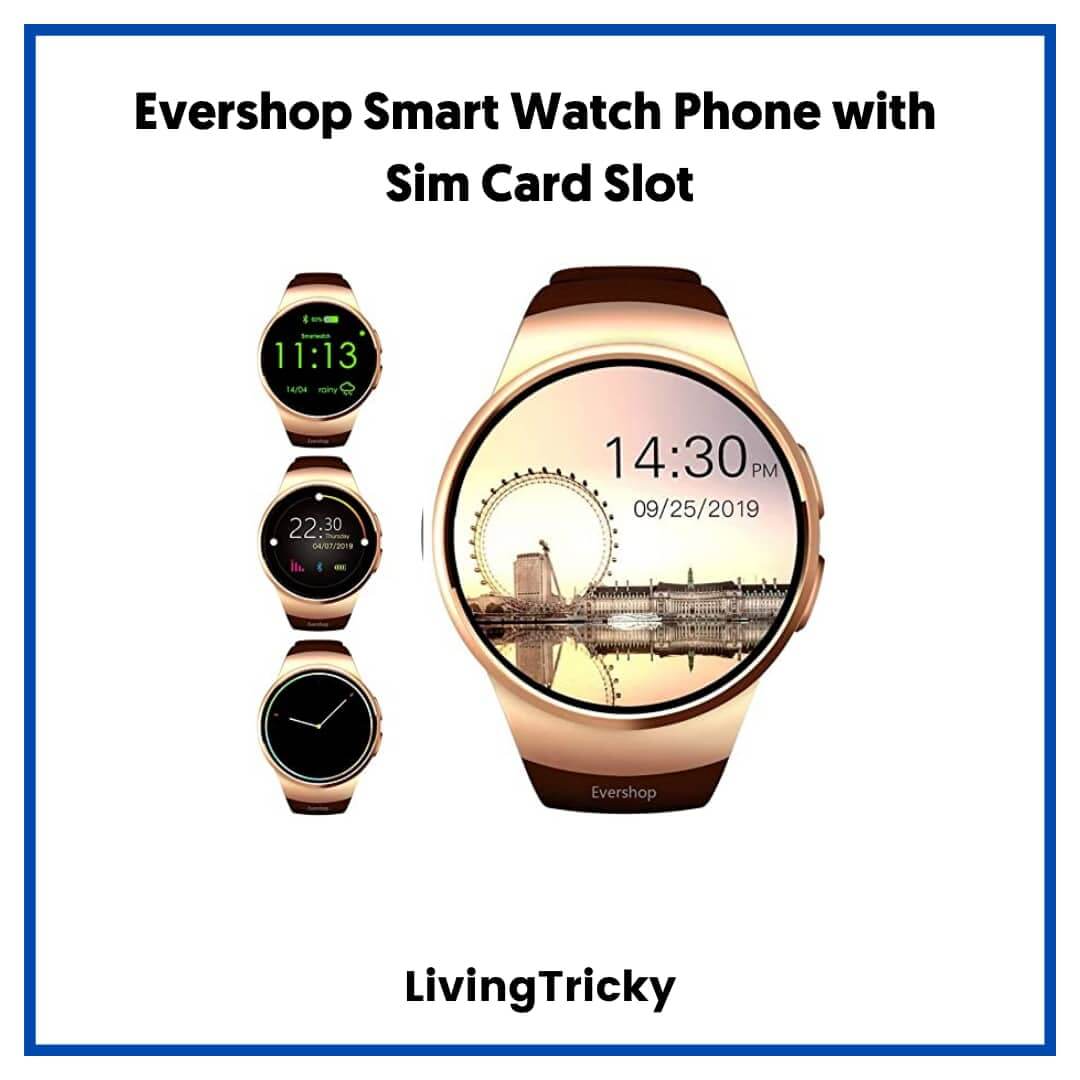 This unique and classy design will make people wonder whether it's a smartwatch or a regular stylish watch. The conventional look coupled with technological capabilities makes this smartwatch one of the best options in the market.
The gold or black band design is flexible and durable. It comes with a 1.5 inches AMOLED touchscreen with a round shape and a waterproof surface. It has a memory of 16GB along with a micro Sim slot.
The best feature that you wouldn't find in other smartwatches is the dual sim features. Yes, not just one, you can operate two different Sims in this smartwatch.
Now let us look at some pros and cons of this watch.
Pros:
It has a 350Mah battery which can work for 5 days on a full charge. Probably one of the best battery backups in the market.

It is water-resistant, so splashes and accidental spillage won't do any harm to your watch.

This watch comes with a 3-year warranty and any mishap within this 3 years is covered.

It has an HD IPS no air gap screen along with an excellent display unit that provides both elegance and transparency.

It has a lot of space with 128 MB storage and 64GB ram, something which will allow you to keep larger files in the watch.
Cons:
It is not a waterproof watch, so you might not take it underwater. So if you are looking for a waterproof and not water-resistant watch, this isn't the one.
Also Read – Apple Payment Plan for Bad Credit with Easy Method
6. LEM X Smartwatch Android 7.1 LTE 4G: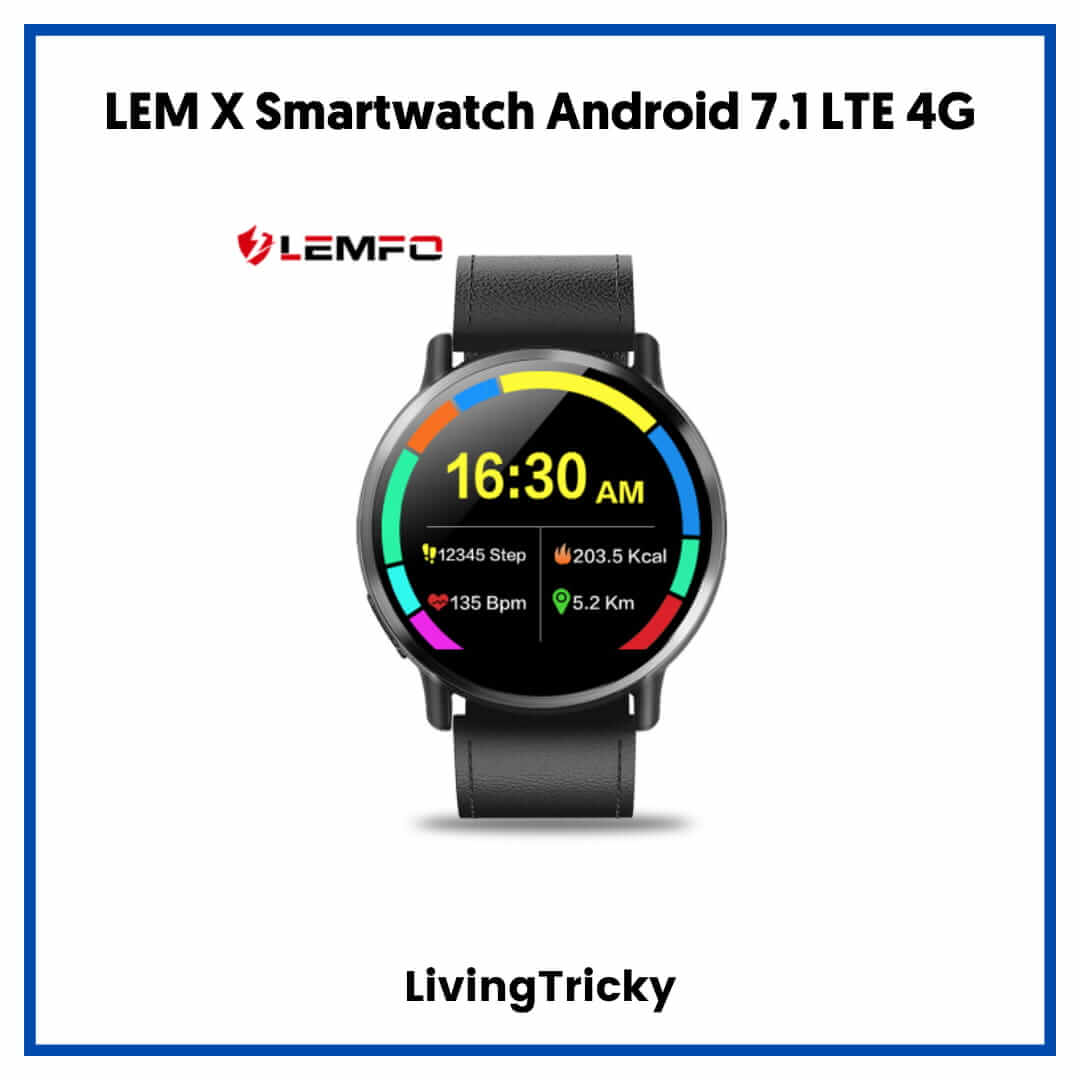 This is a smartwatch with a 4G sim that comes with a bundle of features exclusively for you. It is an android run watch with an inbuilt translator that can help you interact with different people. It has a nano Sim card slot and 4G compatibility.
Therefore, phone calls, texts, the internet, everything is available on this phone. It has android 7.1 installed in it and supports all applications supported by it.
If you like adventure, this smartwatch is perfect for you. With its translation mechanism, you can easily talk to people from around the globe with accuracy.
Moreover, the heart rate, walking distance and GPS features will help you enhance the experience of your adventure. It also has an 8MP camera with an AMOLED HD screen that provides a lucid experience to the users.
Now let us look at some pros and cons of this watch.
Pros:
The latest android version 7.1 makes this watch very compatible with other devices and applications.

The camera quality is reviewed to be superb in this watch.

The user interface is also very friendly and easy.
Cons:
It does not have a very good battery backup. Too many apps simultaneously running on the background might cut the battery backup to hours as well.
It is a bit heavy than other watches, which makes it not an ideal comfortable watch to wear all the time.
Also Read – How to Get Free Government Internet and Laptop for Low Income Families
7. Andmei Smartwatch: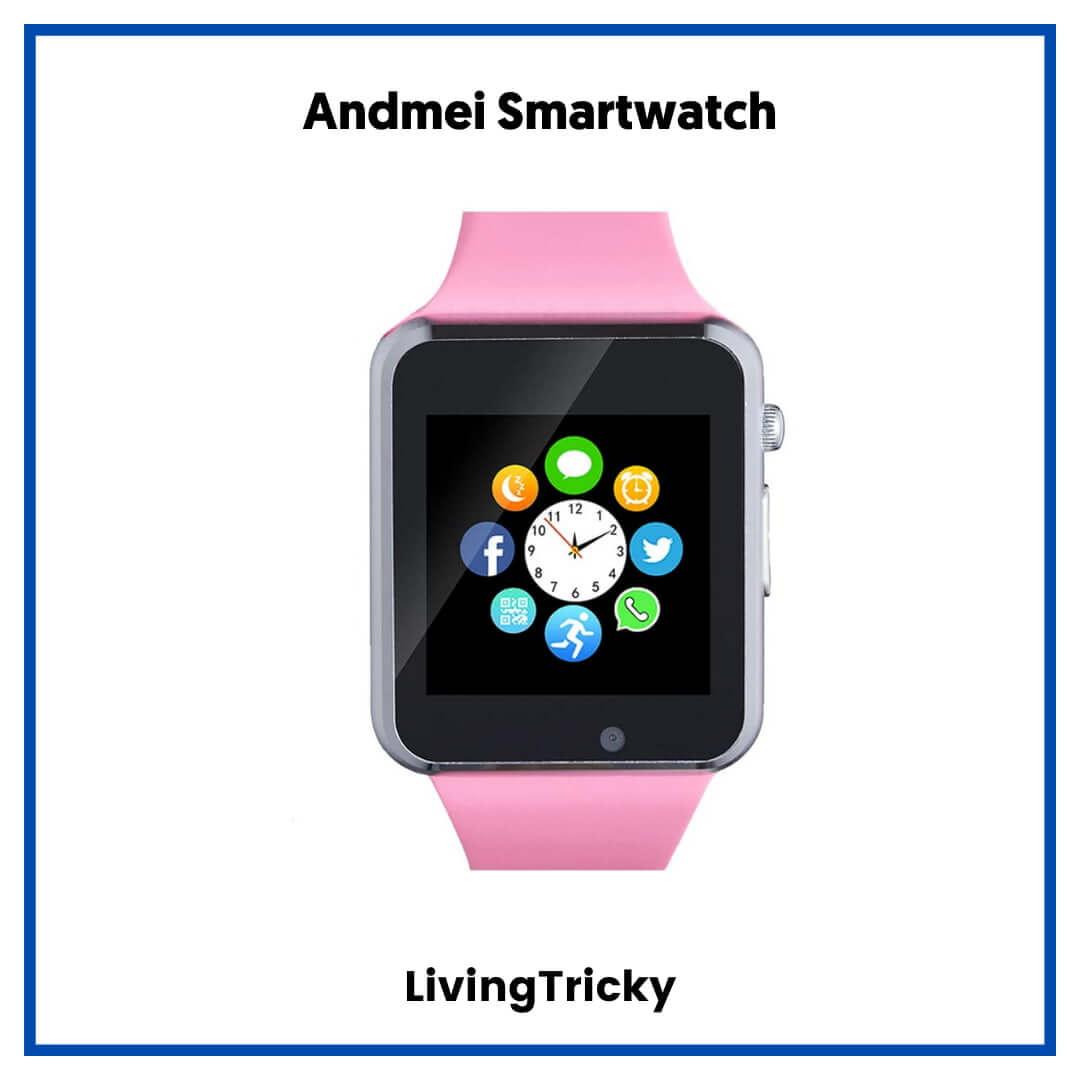 Another beautiful and elegant smartwatch in the market with a SIM card slot is this one. It can make calls, messages and has advanced features including a pedometer. It is one of the best watches for tracking kids.
If you want a sim card for kids smartwatch, you can easily find any network provider that has a GSM 2G Sim card. It has great connectivity with iOS also. It works even better when connected to androids.
Let us look at some pros and cons of the watch.
Pros:
It has a very user-friendly interface. Anyone can learn using it in no time.

It has a remote camera capability.

The screen is very tough and good, making it ideal to track kids who often like throwing things away.
Cons:
It is not good with iPhones and works better with android only.

It is not waterproof, which makes it very fragile to be used around kids sometimes. You might not want water to be spilled on it.
Also Read – How to Get Free Government Internet and Laptop for Low Income Families
8. Ticwatch E: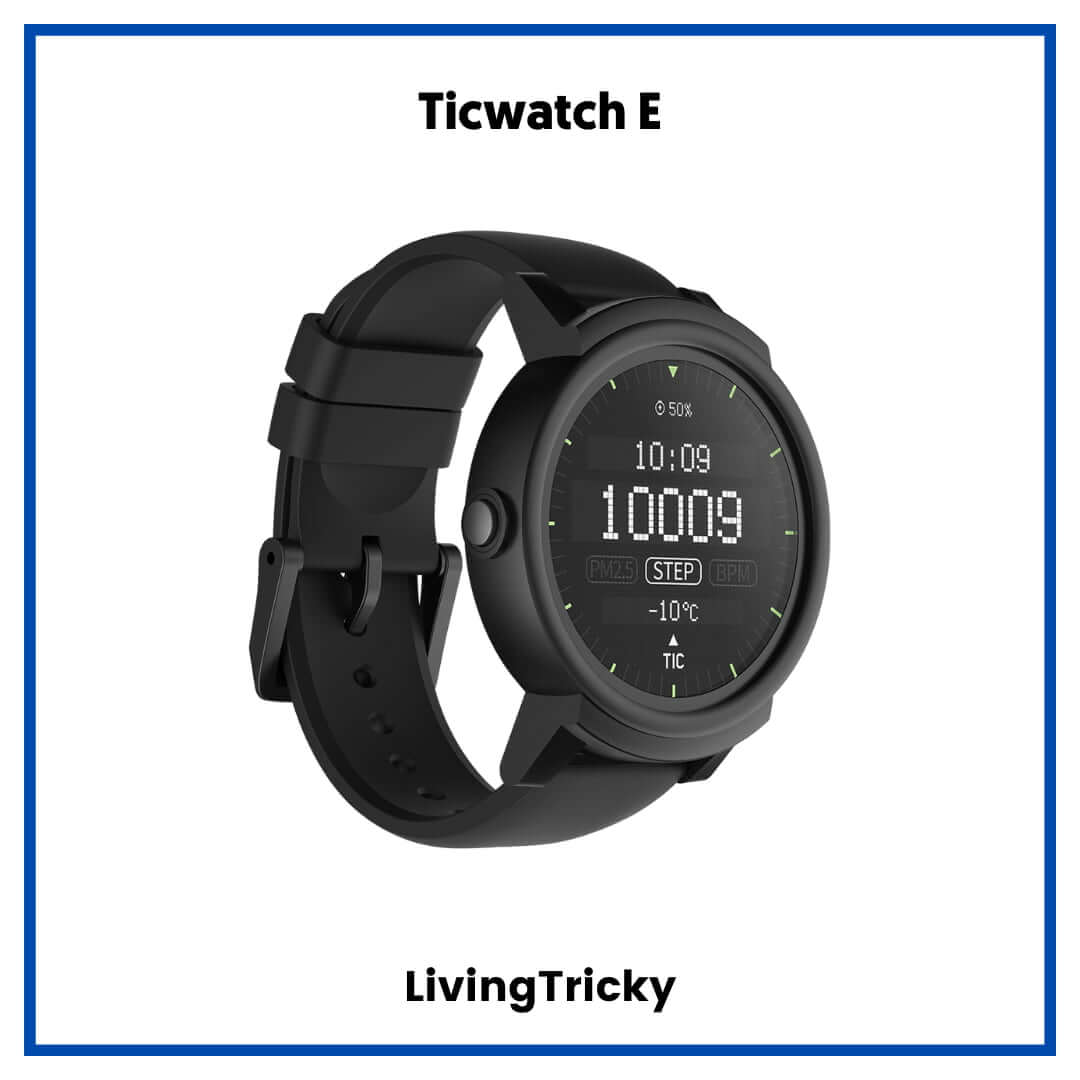 This is one of the most comfortable smartwatches present in its market. It is not a cheap one but competes well with other bigger brands. It has a simple look, that imparts elegance and simplicity.
It has a google assistant voice control system in it. It has a 1.4inches OLED touchscreen display. The body is made up of carbon fiber and stainless steel. It has a memory of 4GB and 512 RAM.
Now let us have a look at some of the pros and Cons of this smartwatch
Pros:
One of the best features of this watch is its battery. It has a 415mAH battery with 48 hours backup on a full charge. Charge it once and forget it for four days.

It is lightweight and elegant in looks. You can change its straps to suit your outfit and moods. It dwells well in all of them.

It is dust resistant and has GPS Tracker, step counter, heart monitor among other features as well.
Cons:
The buttons provided are too tiny to press sometimes.

It is dust resistant but not waterproof, so if it goes into a swimming pool, chances are It might get damaged.

It can work better If some hardware is updated according to the industry standards today.
Also Read – How to Get a Free iPhone and Avoid Scams
9. Kids Phone Smartwatch: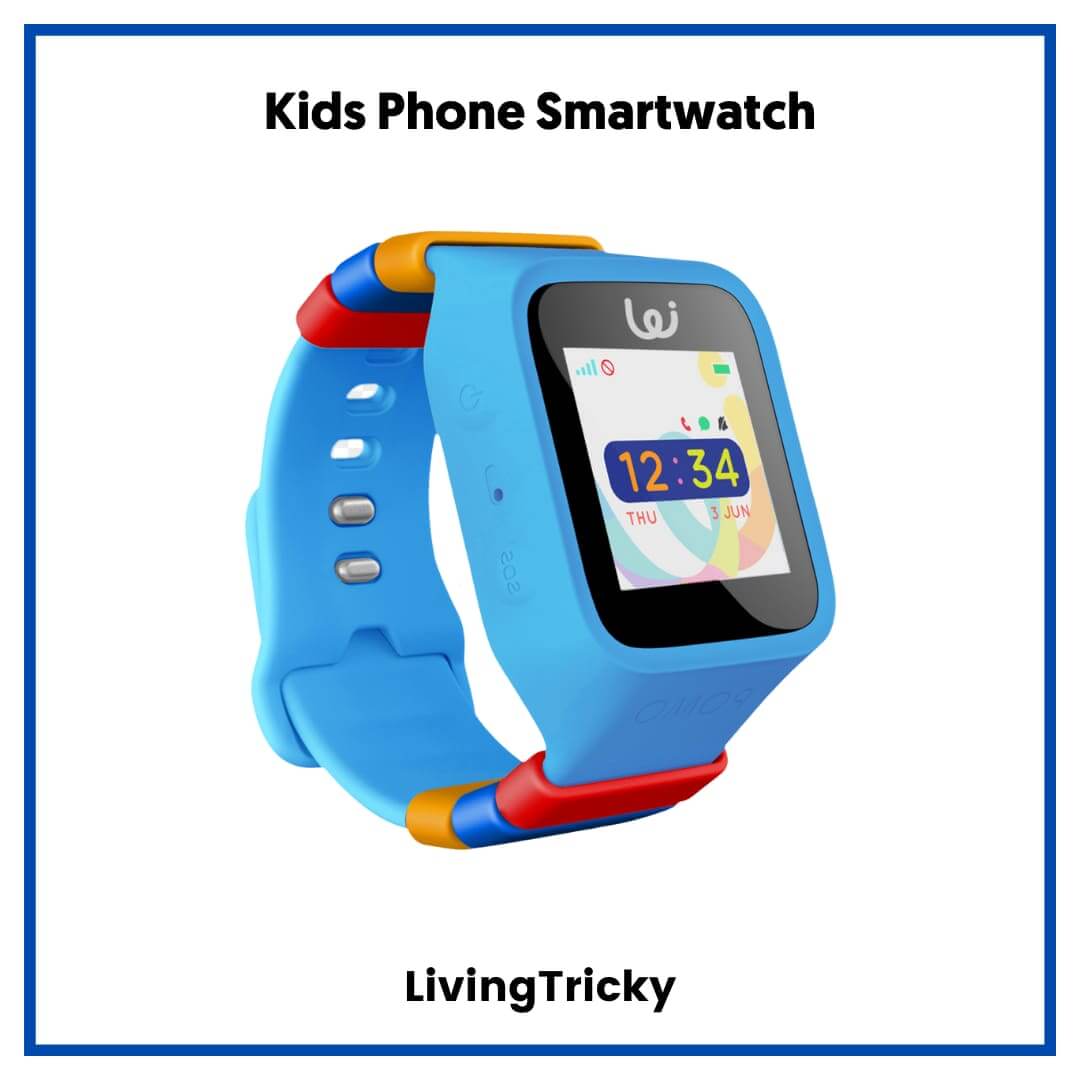 If you are looking for smartwatches for your kids, this one is the best option available. You don't even have to look for a sim card for kids smartwatch since it already comes with a SpeedTalk SIM card.
It has good plans and flexible tariff options for you to chose from. It is compatible with all 4G LTE GSM networks and provides a good coverage area.
The watch also has a GPS and location feed which can tell you about your kid's whereabouts. It is compatible with android and iOS phones equally.
Now let us look at some of the pros and cons.
Pros:
Free seem card along with the watch prevents valuable time searching for one.

It is water-resistant, which is very important since it is meant for kids who are not very careful with their devices.

It provides good compatibility with both android and iOS devices, which makes it more flexible.
Cons:
There is no roaming facility available in this smartwatch.

Some users have described the GPS System to be inaccurate, which can be a problem sometimes.

The battery is not that great, especially if too many apps are installed in it.
10. JANKER – ONE Smartwatch: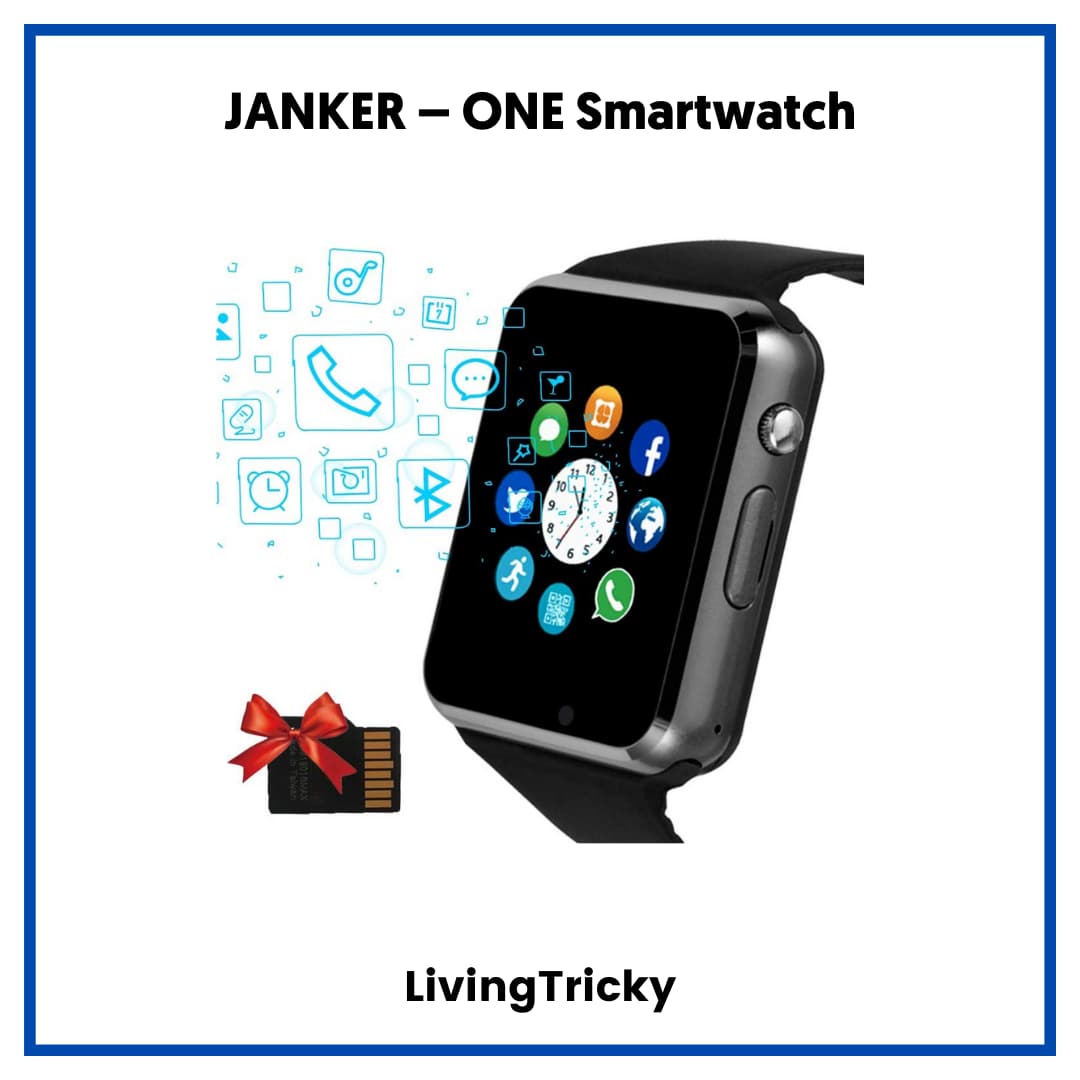 This smartwatch with sim card slot is a good option for a reliable, user-friendly and not-so-expensive smartwatch. It has a good and mature design, with a screen guard and leveled edges. It is suitable for both adults and kids alike.
A sim card can be put into it which allows you to make and receive calls. It is compatible with Android devices fully and partially with iOS devices as well. Not all apps are supported by it, but basic ones like calendar, Facebook, camera, texts, browser are supported fully.
It has a micro sim card slot and a micro SD card slot too for expandable memory. It has a1.54 inches durable touchscreen.
Now let us look at some of the pros and cons of this smartwatch:
Pros:
It is good for kids since it has an anti-lost feature that allows you to track the watch if it goes missing.

The battery backup is around 48 hours, which is brilliant.

The look is sleek and stylish, comfortable for all outfits and moods.

it has all basic functions for a smartwatch such as heart rate tracking, step tracking, GPS etc.
Cons:
Not all applications are supported by it, as already mentioned.

There is no remote camera control as well.

it is not waterproof, hence it might not be that good for kids, or swimming pool, showering etc.
We have provided you with a list of 10 uniquely wonderful smartwatches that you can choose from in the market.
Just weigh in the pros and cons and see which one suits your needs the best. Now we are going to answer some frequently asked questions about smartwatches.
Frequently Asked Questions: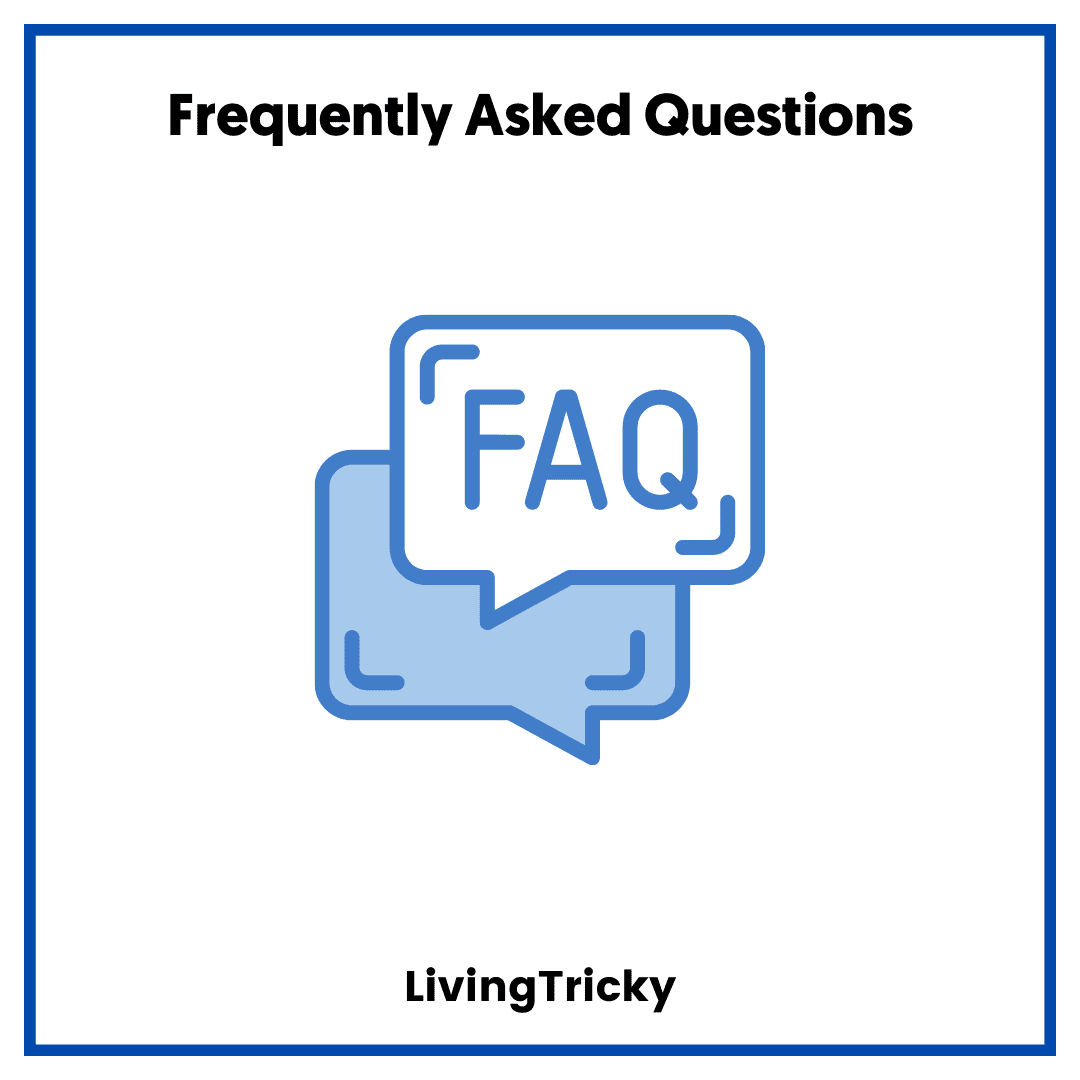 1. What Are the Different Sim Card Plans for Smartwatches?
Many network providers in the United States provide plans that suit a smartwatch. The data plans are cheaper as compared to smartphones.
For example, you can opt for an AT&T Sim card for data-only customers. It offers a nano-sim that can fit all smartwatches in that category. It also provides for prepaid service plans.
Similarly, there are T-Mobile SIM cards for people with smartwatches. It has data plans that give 512Kbps speed at just $10. You can link your smartwatch with the phone and make calls.
2. What Is the Need for a Sim Card in a Smartwatch?
Technology is evolving, and there's no harm in evolving with it. One of the main advantages of having a sim card watch is that you will have a wireless connection with an LTE network without Bluetooth.
Only smartwatches with SIM cards are able to connect to wireless connections and work on 4G and LTE. Without it, you'll need wifi constantly to make it work. Therefore, it is a good idea to choose a smartwatch with a SIM card today.
3. Are Smartwatches with Sims Too Expensive?
No, the cost depends on the company. Apple watches are the most expensive ones in the market and there are other companies that sell on half its price. The difference lies in the user interface, features and durability as well.
The price of a smartwatch with a sim slot may vary from regular smartwatches, but it is not necessary that they are expensive.
Ending the Article:
In the end, we would advise you to buy a smartwatch with a SIM card today, because it has more features and compatibility than regular ones. If you have the budget, make sure you buy the most durable and trustworthy ones in the market.
We have provided you with a list of the 10 best smartwatches with sim cards for adults and kids. This watch with sim card list will help you chose the best one for you. Additionally, we have also provided you with reasons why sim card watches are better than regular ones.
As technology has taken leaps and bounds in this, so should you. Make sure you have all the information you need and do your research beforehand to invest carefully. A Smartwatch is a very good investment if done right!